BALLYMENA 29 BUCCANEERS 22
Buccaneers made the long journey to Eaton Park for this Energia All-Ireland League Division 2A clash on Saturday v Ballymena and paid a big price for a very lethargic start that saw the visitors go behind 22-3 after only 21 minutes.
Declan Adamson, Ciaran Booth and Rory O'Connor all started, having been involved from the bench the previous weekend when Buccaneers opened their league account with a home win v Cashel. On a perfect day for rugby, and with a large home crowd, one could sense that Ballymena would come out firing after their opening day league defeat to Queens University the previous weekend.
From the opening exchange, scrumhalf Eoin O'Reilly had his box kick charged down, and the resulting scramble saw the home side awarded a penalty that was duly converted by Tim Small. The score provided real energy and within a few minutes, Ballymena won a lineout and moved the ball swiftly across the pitch. Ross Murphy-Sweeney was out-foxed whilst providing cover and the home winger Dean Millar ran in a fine score. The conversion was missed but Buccaneers trailed by 8 points inside 5 minutes.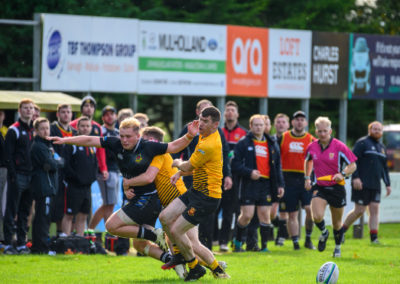 Worse was to follow when out half Michael Hanley misjudged his kick to space; instead providing the same winger an opportunity to field and run at an exposed defence. Ballymena worked the overlap well and Adam Lamont ran under the posts for an opportunist 12th minute try that was converted by Small.
At 15-0 down, the away side had to score next and Hanley obliged with a penalty following a good carry from Evan Galvin. Relief was brief for the visitors as Ballymena again showed much greater belief following a good lineout on the visitor's line, they mauled over for a James McCormick try and with Small's conversion sat 22-3 ahead after a mere 21 minutes.
Buccaneers had to respond and they did with Danny Qualter and Tabo Maree instrumental is taking the ball to the home team and grabbing momentum back. Captain Galvin crossed the line from a strong lineout maul on the half hour and Hanley was unlucky to hit the post with the conversion. Continued pressure from the visiting team led to a penalty try on 38 minutes and the home crowd were silenced somewhat when the last play of the game was a penalty from Hanley to reduce the half time deficit to 7 points at 22-15.
The second half was 5 minutes old when Buccaneers brought the game to level terms. A strong scrum win against the head resulted in a penalty and from the lineout, Buccaneers mauled over for a try courtesy of Adamson. Hanley's conversion tied the game, and the small crowd that had travelled the long journey were increasingly vocal. Buccaneers now needed to find a way to win, but the ensuing 35 minutes proved to be very frustrating.

Firstly, Ballymena rallied and regained a 7-point lead after 50 minutes, hooker McCormick notching his fifth touchdown in two matches and man of the match Small adding the extras to complete the scoring.
But more frustratingly, the visitors spurned chance after chance and, whilst showing huge endeavour and fight, the scores could not be taken. Darren Browne was introduced for Adamson, and following an opposition overthrow, Browne made a strong break into the home half with a resulting penalty. The lineout was won, but the referee's interpretation at maul time was changing and it was a feature of the final quarter with many key decisions going against the midlanders. James Kelly, who was introduced for Charlie Ward for the final quarter, was particularly effective in the scrum but was not getting the reward from the referee. Head coach Kolo Kiripati emptied the bench, and the young replacements acquitted themselves well, but could not change the dynamic.
The last exchanges were played out inside the home 22 with the Athlone side dramatically looking for the converted score to level the game. However, it was Ballymena's day, their young side featuring three 18-year-olds in their back row defending manfully at the end. Buccs had to settle for a losing bonus point. Whilst that moves the Pirates up to 4th in the table after two games, the players and coaches know that this was one that got away.

Qualter had a fine game, and his leadership was telling. Maree followed up from last week with another aggressive display. Kelly was very impactful when introduced for the final quarter whilst youngster Ruaidhri Fallon at full back had a very composed games and was the pick of the backline where Stephen Mannion also had good moments.
Next up is a home fixture against Nenagh Ormonde on Saturday with a 2.30pm kick off. The Nenagh home fixture v Cashel last Friday night was postponed due to a Covid issue, and indications are that the weekend fixture at Dubarry Park will go ahead in line with IRFU protocols.
BALLYMENA:- R.McBurney; R.Ervine, M.Thompson, S.Millar, D.Millar; T.Small, G.Baillie (captain); J.Mark, J.McCormick, J.Mawhinney; J.Browne, D.Whann; P.Browne, A.Lamont and J.McNabney. Replacements:- A.Wilson, S.Donald, M.Dick, R.McKay and M.Corr.
BUCCANEERS:- Ruaidhri Fallon; Rory O'Connor, Shane Layden, Stephen Mannion, Ross Murphy-Sweeney; Michael Hanley, Eoin O'Reilly; Martin Staunton, Declan Adamson, Charlie Ward; Ruairi Byrne, Danny Qualter; Ciaran Booth, Evan Galvin (captain) and Tabo Maree. Replacements:- Darren Browne, James Kelly, Koranato Kiripati, Adam Flanagan and Thomas McGann.
Referee:- Jonathan Peake (IRFU).