Buccaneers Rugby Football Club is located in Dubarry Park, Athlone.
The club boasts excellent facilities including: 3 full size rugby pitches plus separate designated training area, 8 dressing-rooms plus separate changing area for match officials, 650 seater stand with media sector and wheelchair access, 200 vehicle car park, Covered terracing, TV quality flood-lighting on main pitch, Match quality flood-lighting on second pitch and training area.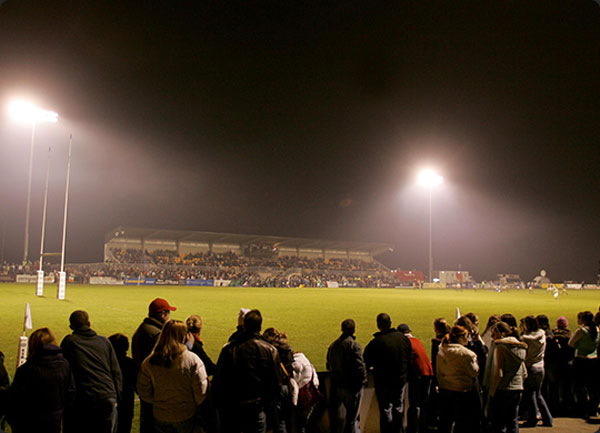 Covered Terracing
TV Quality Flood-lighting
on main pitch
Match Quality Flood-lighting
on second pitch & training area
Club History
Buccaneers has been fielding teams since the 1930's, but it wasn't until the 1950's that the club really came into its own. The first trophy won was the Connacht Senior Cup in 1955, and since then there has been many cup successes.
The Bounty Bar
The Bounty Bar & Venue is open for lunch seven days a week, with evening bar food served Thursday – Sunday. The service is swift and friendly with staff that really do care about the customer . Great food is served in a friendly informal atmosphere.
Club Officers
It takes a lot of people's time, effort and dedication to make our club what it is.
Executive Committee
Patrick O'Meara

President

086 1732711

Eamonn Collins

Senior Vice-President

Billy McMickan

Junior Vice-President

086 1732711

Michael Cleary

Hon. Secretary

086 1732711

Ken Flanagan

Hon. Treasurer

086 1732711

Michael Silke

Media Officer

087 2261970

Patrick Hynes

Facilities Chairperson

Billy McMickan

Chairman of Football

086 1732711

Michael Dolan

Minis Secretary

Gordon Ballantyne

Immediate Past President

087 2346708

Ted Carty

Trustee

Anthony Lowry

Trustee

Michael Silke

Trustee

Patrick Whelan

Trustee

Dr Tom Meagher

Doctor

Dr Anthony Lowry

Doctor

086 1732711

Dr Patrick O'Meara

Doctor

086 1732711

Dr John Rice

Doctor

086 1732711

Tom & Elizabeth Boland

Dentists

Ed Scully

Physiotherapist

Jack Mannion

Assistant Physio
General Committee & Management Team
Peter O'Donnell

Senior Head Coach

Aidan Wynne

Assistant Coach

Shane Layden

Senior Captain

Mickey Carroll

Senior Manager

Assistant Manager TBC

Assistant Manager

Adrian Hanley

Women's Head Coach

Women's Asst Coach TBC

Women's Asst Coach

Women's Captain TBC

Women's Captain

Sandra Feary

Women's Manager

Patrick Hynes

Health & Safety Officer

Martin Webster

Senior Logistics

Video Analyst TBC

Video Analyst

Patrick Whelan

Fixtures Secretary

Charlie Couper

Schools Representative

Charlie Couper

Athlone Institute of Technology Representative

David Connolly

Referees' Affairs & Communications Office

Zantha Meyer

Safe-guarding Officer

Miriam Giles

Asst. Safe-guarding Officer
Connacht Representatives
Ray Fagan

Seniors Connacht Representative

Sandra Feary

Women's Connacht Representative

Patrick Whelan

Juniors Connacht Representative

Brendan Wilkins

Youths Connacht Representative
Get involved with Buccaneers R.F.C
Rugby is a game for everyone. You are invited to get involved.