BUCCS STUN STUDENTS TO GAIN PROMOTION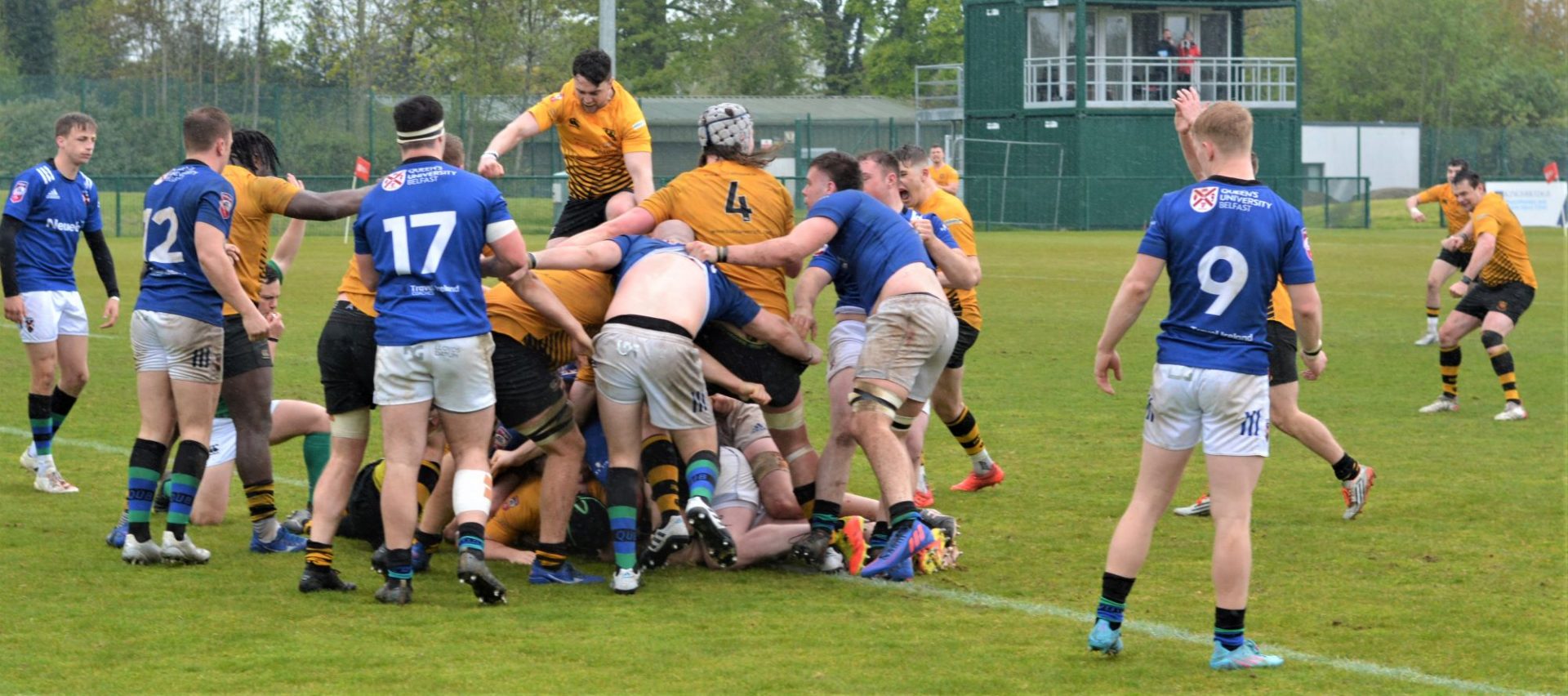 QUEEN'S UNIVERSITY 17 BUCCANEERS 18
Brilliant Buccaneers put in a complete performance to stun hot favourites Queen's University 18-17 in their Energia All-Ireland League Division 2A promotion decider played at The Dub, Belfast, on Saturday. This was simply the best display of the season by the Pirates on the day when it really mattered. From 1 to 15 and also the bench, Buccs were quite magnificent from start to finish. Their workrate, intensity and focus were something that the home team had not faced all season as the midlanders were relentless in applying their gameplan that dismantled the Students' usual free-flowing style. The Athlone team took hard learned lessons from their two league defeats to Queen's and were well-drilled and clever in getting the vital edge of a thrilling encounter played in front of big attendance at the neat venue.
Buccaneers made two changes with Darragh Murray fit again to return at lock while Martin Staunton started at loosehead prop instead of Charlie Ward who was injured in the semi-final win at Cashel. The Ulster side was quite settled too following their demolition of Ballymena in the other semi-final. Underfoot conditions were firm but a grey, damp day resulted in a greasy ball; yet handling errors were few and far between. Queen's began brightly until the wily Staunton got over the ball on his own 22 to lift early pressure. A super touch by Stephen Mannion brought the Shannonsiders into the home half where they won a Queen's lineout but a loose pass then spoiled a promising position. However, Ciaran Booth got over the ball to win a 13th minute penalty which Michael Hanley slotted over to open the scoring.
Following a Queen's penalty to the left corner at the quarter mark, George Saunderson was involved on a couple of occasions to threaten danger but Danny Qualter turned over possession and Hanley cleared his lines. Queen's now applied some serious pressure close to the Buccs line and, following a scrum, Gary Dillon seemed sure to score but Murray got under the No.8 to keep his line intact. The northerners were dominating at this stage but found the Buccs defence up to the challenge until Josh O'Connor and Sam Illo were unable to prevent winger Graham Curtis squeezing over at the left corner flag. Richie McMaster conversion of this 26th minute try was surprisingly short.
Buccs responded almost immediately with Ruaidhri Fallon doing very well to keep the ball in play before Booth and Illo carried the move on. The Pirates raid forward forced Queen's to slow the ball illegally and Hanley drilled over the resultant penalty just after the half-hour mark. O'Connor put in a splendid tackle in the left corner that protected Buccs 6-5 half-time advantage.
Tackling was ferocious throughout as Queen's endeavoured to regain control and their efforts were rewarded when prop Saunderson barged over for a try left of the uprights. McMaster's conversion put Queen's 12-6 ahead with half an hour remaining. But now Buccs began to really turn the screw with their pack having the upperhand. A Mannion chip to Fallon got the Athlone side a foothold close to the College line where Buccs were somehow held out on a number of occasions in quick succession. Richie Johnstone got under Illo to deny him and Oisin McCormack was grounded literally centimetres from the white line but this unceasing pressure saw the homesters concede a growing number of penalties. Referee Andrew Cole eventually lost patience with their infringing and despatched Scott Wilson to the sin bin just past the hour mark.
The relentless nature of Buccs attacking yielded a 64th minute penalty try and a one point lead for the midlanders. The Pirates now went for the jugular and their sustained pressure gained further reward. Fallon was hit hard dealing with an up-and-under but the referee did well to spot that the Queen's chasers were off-side. Buccs punted the penalty to the left where Evan Galvin won lineout possession and a superb drive by the pack was finished with Qualter grounding the ball for a 70th minute try. In a rare error, Hanley missed the conversion and although the Pirates led 18-12 they were vulnerable to a possible converted try by Queen's.
Frank Hopkins replaced Will Reilly at this stage while James Humphries had replaced McMaster for the hosts and Fallon did well to win the race to a grubber kick by the replacement outhalf. James Kelly was a late introduction for the venerable Staunton as Queen's lifted their efforts to retrieve the situation. They found Buccs defence impenetrable until the final minute when they forced a penalty just inside the Buccs 22. McCormack's subsequent reluctance to release the ball earned the Ulster side a further ten metres from where they took a tap penalty. The door was now fully open to a seven pointer by Queen's and, in the final move of an enthralling contest, teenage lock Charlie Irvine got over for a try wide on the left. In a dramatic conclusion, promotion or otherwise went down to the very last kick of a long hard season. Humphries broke Buccs hearts at Dubarry Park in January when his intercept try lifted Queen's to a vital win. However, on this occasion, it was the son of former Ireland fly-half David who suffered the heartbreak as his conversion kick rebounded off the near upright, greatly to McCormack's relief. With that the referee whistled fulltime and the Pirates were dramatically bound for Division 1B.
It was tough on young Humphries and his teammates who finished the league 19 points ahead of Buccaneers as fine margins decided the season. But the Athlone side hit form at the business end of the campaign notably at Cashel and particularly at The Dub. They learned salutary lessons from their meetings against Queen's. Do not give them space; do not make errors; be competitive and disciplined from start to finish; and dominate the forwards exchanges. Buccaneers got top marks in all these facets with their work at the breakdown being key. It was truly a real team performance led by skipper Galvin with everyone making significant contributions to this dramatic success in a match worthy of the occasion.
Full credit is due to all the players involved and to those on the bench and indeed many who did not make the final day match squad. Congratulations to them and to their coaches especially Kolo Kiripati, Henry Bryce, Benny Gilligan and Paul Byrne and management team led by Joe Browne and John Doyle who gave them the belief with a spot-on gameplan to which the Pirates stuck to. It is a mainly youthful squad who will have learned and prospered from the season, and they will be better able and battle hardened for the challenges they are likely to face in 1B.
Joyous scenes followed as IRFU President Des Kavanagh presented the Division 2A trophy to victorious Buccaneers captain Evan Galvin and the celebrations then really took off in earnest!
QUEEN'S UNIVERSITY:- M.Orr; S.Martin, B.Heath, R.Johnstone, G.Curtis; R.McMaster, C.McKee; G.Saunderson, A.Clarke, S.Wilson; D.Whitten (captain), C.Irivine; L.McLoughlin, A.McGrath and G.Dillon. Replacements:- N.Phillipson (for Dillon, 38 mins), P.Heasley (for Martin, 50 mins), M.Millar (for McLoughlin, 63 mins), J.Humphreys (for McMaster, 65 mins), H.Long (for Saunderson, 65 mins), A.Lupari (for Clarke, 65 mins), J.Hunter and B.Power.
BUCCANEERS:- R.Fallon; J.O'Connor, S.Layden, S.Mannion, S.O'Carroll; M.Hanley, W.Reilly; M.Staunton, D.Adamson, S.Illo; D.Murray, D.Qualter; O.McCormack, E.Galvin (captain) and C.Booth. Replacements:- F.Hopkins (for Reilly, 70 mins), J.Kelly (for Staunton, 76 mins), D.Browne, R.Byrne, G.Lynch, T.Maree, R.O'Connor and R.O'Meara.
Referee:- Andrew Cole (IRFU).
Footnote:- Referee Andrew Cole book-ended Buccaneers AIL season, officiating in our opening fixture at home to Cashel which the Pirates won with Ruadhri Fallon's final move try and then he was the man with the whistle at The Dub where another dramatic conclusion ended in the midlanders' favour!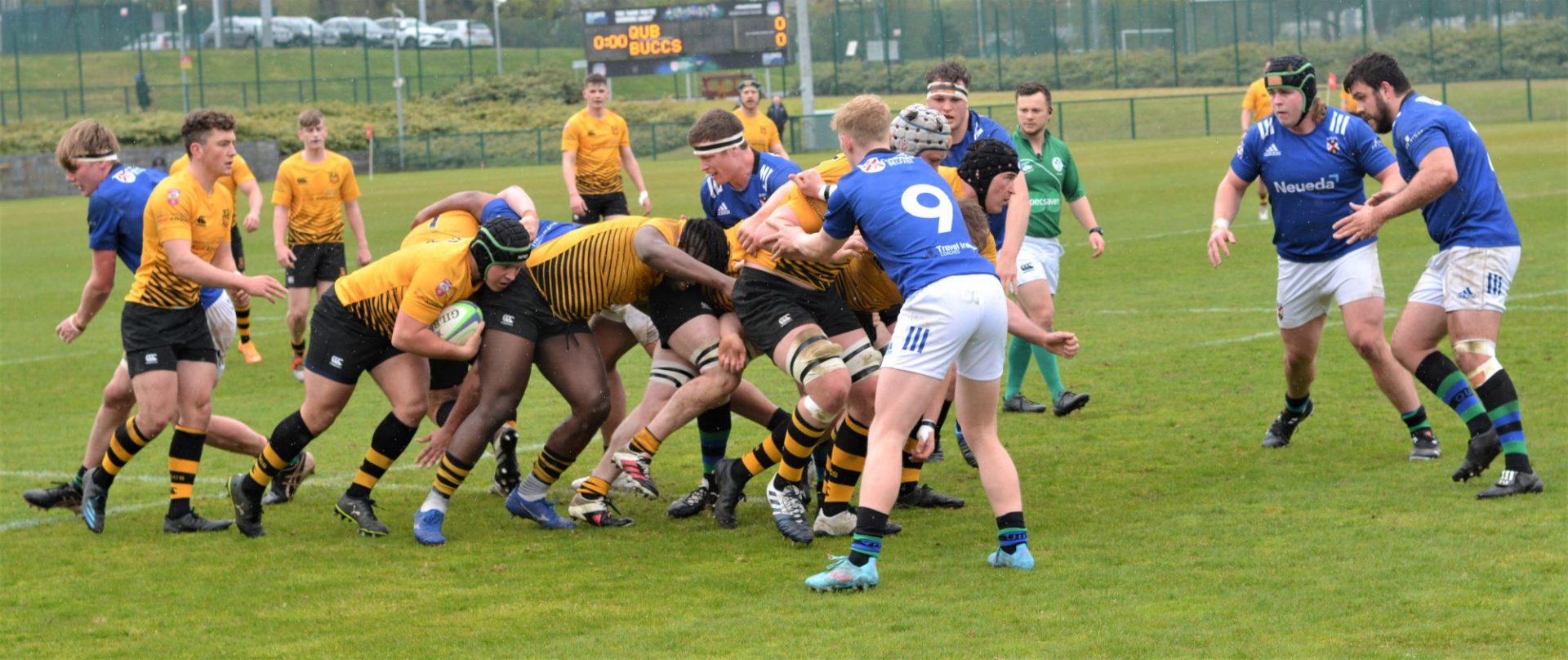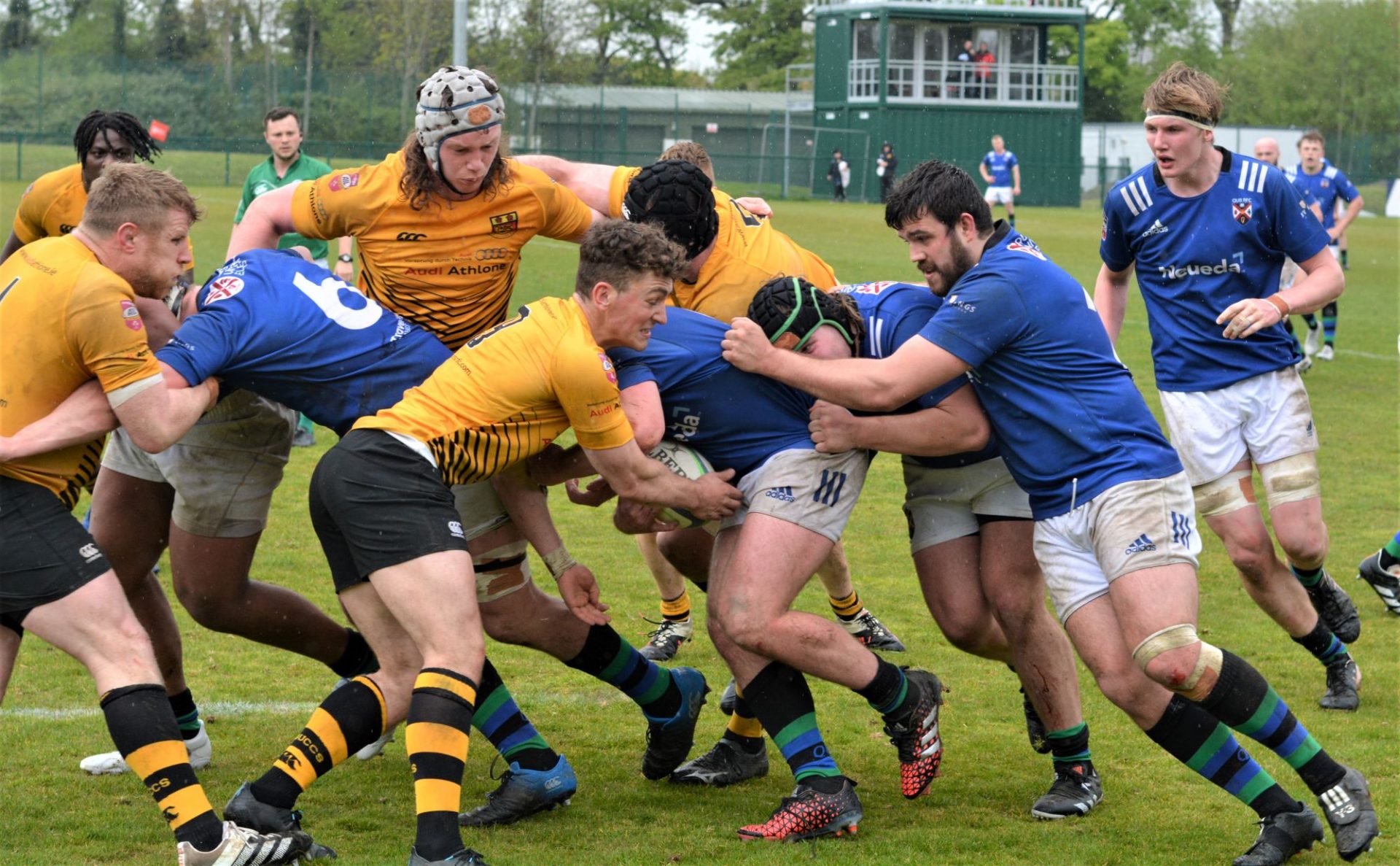 ize-full wp-image-3639″ />