HOME WIN KEEPS BUCCS IN SECOND PLACE
BUCCANEERS 24 OLD BELVEDERE 13
BUCCANEERS and Old Belvedere served up a compelling and competitive Energia All-Ireland League contest at well-attended Dubarry Park on Saturday with the home side's stronger finish gaining them a hard-earned 24-13 victory. This win ensures Buccs continue their promising start to the campaign and keeps them in second place in Division 1B. After heavy overnight rain further showers arrived just prior to kick-off which, allayed to a diagonal breeze, made for tricky playing conditions.
Buccs made six personnel changes, four in the pack and two in the backline, from the starting XV that won at Highfield. Michael Hanley returned after injury at flyhalf with Will Reilly starting at scrumhalf. Danny Qualter made his first AIL start of the season and Ciaran Booth returned at No.8 while James Kelly and Shane Delahunt came in to the front row. This meant Oisin McCormack resumed in his more familiar role at openside flanker. Old Belvedere had a more settled line-up with David Wilkinson switching from fullback to stand-off and Joe White moving to fullback with Gavin Nugent coming in on the right wing.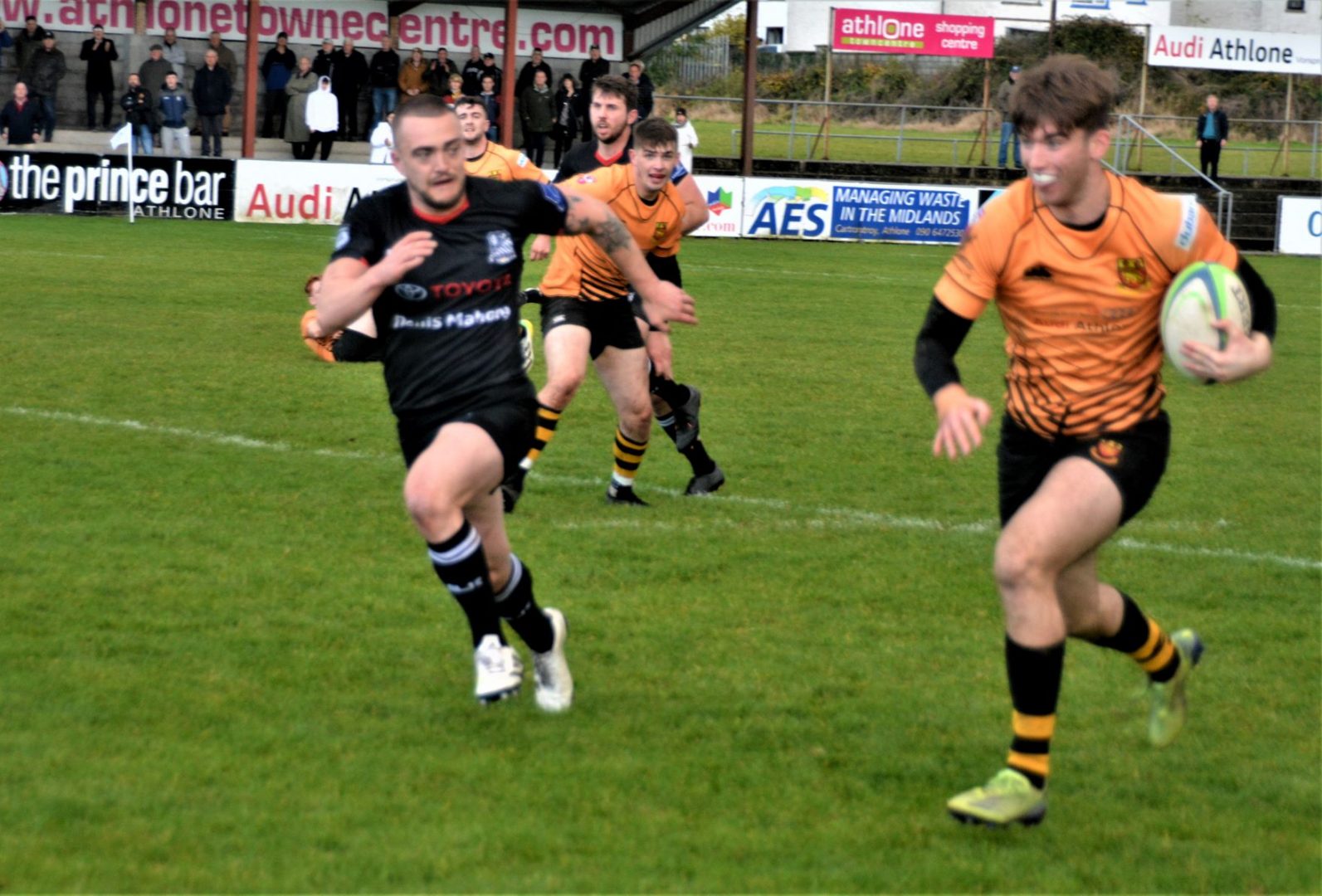 The visitors had first benefit of the elements and got an early further boost when Qualter, returning from holidays, was yellow-carded for an untidy tackle after just three minutes. Old Belvo sought to take swift advantage and Buccs came under pressure with Hanley making one smart clearance before the midlanders were penalised at a ruck. However, Justin Leonard missed this relatively straight-forward 11th minute penalty.
Buccs began to settle as did the weather and Josh O'Connor made a typical foray up the stand side and this was followed by a Qualter rumble also along this flank. The Pirates were now getting a grip on the proceedings and Qualter almost broke through the centre. Next Saul O'Carroll, O'Connor, Shane Layden and Reilly combined on the left side of the pitch where this Pirates raid came up just short. But this improved play earned the homesters a 25th minute penalty which Hanley slotted over to open the scoring.
Four minutes later the metropolitans got back on the front foot with a penalty to the left touch after Buccs had come in from the side. Securing clean lineout possession their pack mauled over the home line where Kiwi Kale Thatcher grounded to score his third try of the season. Leonard's conversion was wide but, when Buccs did not roll away, the centre edged Old Belvedere 8-3 ahead with a 35th minute penalty.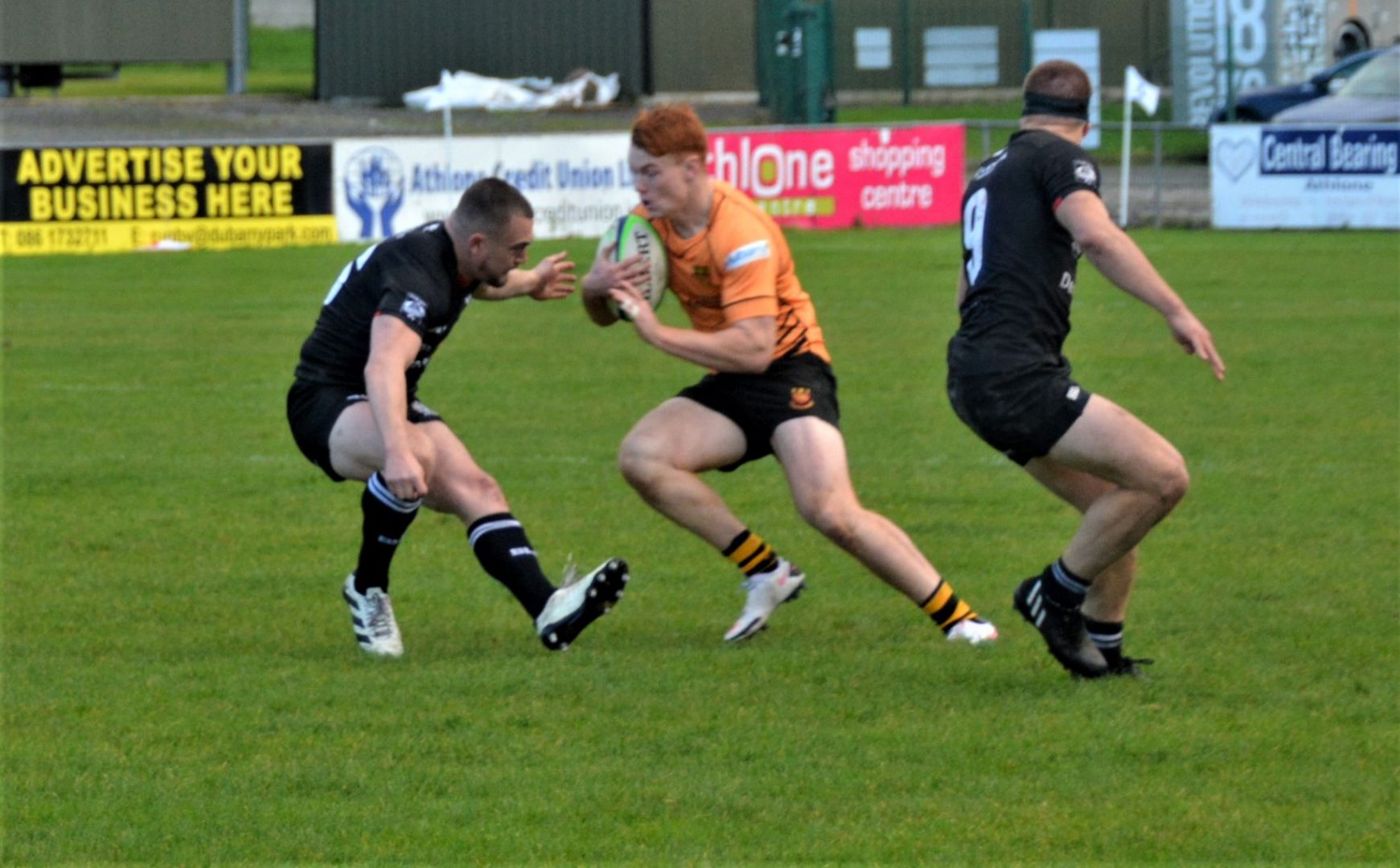 Buccs restart went straight into touch and then their scrum went down on halfway but Leonard was unable to land the resultant penalty from halfway. Nevertheless, Belvo piled forward in a prolonged finishing period to the first half during which Martin Staunton was sin-binned for diving on a loose ball as the Dubliners tried to maul over the home line. But the depleted Pirates pack put in a valiant effort to keep their line intact until the interval and, in hindsight, this was arguably the crucial segment of the match.
With the sun and breeze now at their backs, Buccs were a rejuvenated force following the change of ends and they quickly poured forward and looked like making an early breach in the Old Belvedere defence. However, referee Dermot Blake hastily whistled to award the Athlone side a penalty rather than allow advantage continue as halftime substitute Frankie Hopkins had found a gap in the visitors' rearguard and was heading in for a certain try. Instead they had to settle for a 43rd minute Hanley penalty.
Old Belvedere responded with a fine period of possession, going through the phases and making progress into home territory. Eventually, they sucked in the Pirates defence and Jayden Beckett crossfield kicked to the unattended Nugent who got over wide on the right for an unconverted 47th minute try.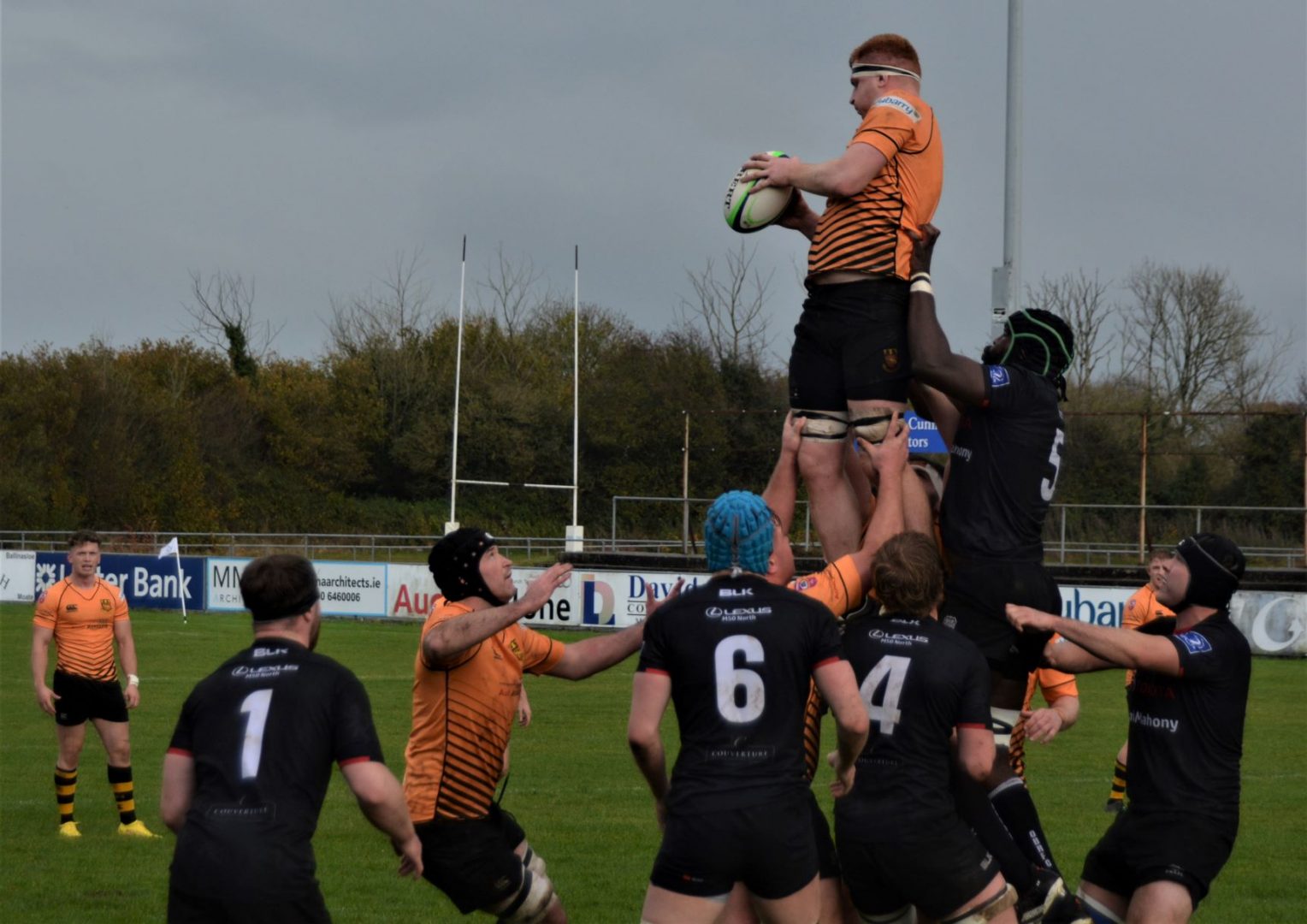 But, once returned to full complement, Buccaneers again began to dictate and they made much better use of the breeze. Fergus Galvin made a great block that ultimately led to Hanley's third successful penalty on 52 minutes. Buccs then applied fierce pressure but a knock-on in the greasy conditions ended that promising spell. However, a high tackle in midfield on the hour mark yielded a penalty which Hanley comfortably drilled over to leave Buccaneers just a single point in arrears 12-13.
A splendid downfield kick by McCormack (reminiscent of his outhalf father Peter) brought Buccs into Old Belvedere's 22 where the midlanders swarmed forward to apply serious pressure. From Wilkinson's hurried clearance Jennings counter-attacked and linked with Stephen Mannion who drew the cover before releasing O'Carroll. The towering winger had too much pace for Cian Cunningham and dived over at the left corner flag for a splendid 69th minute try to regain the lead for Buccaneers.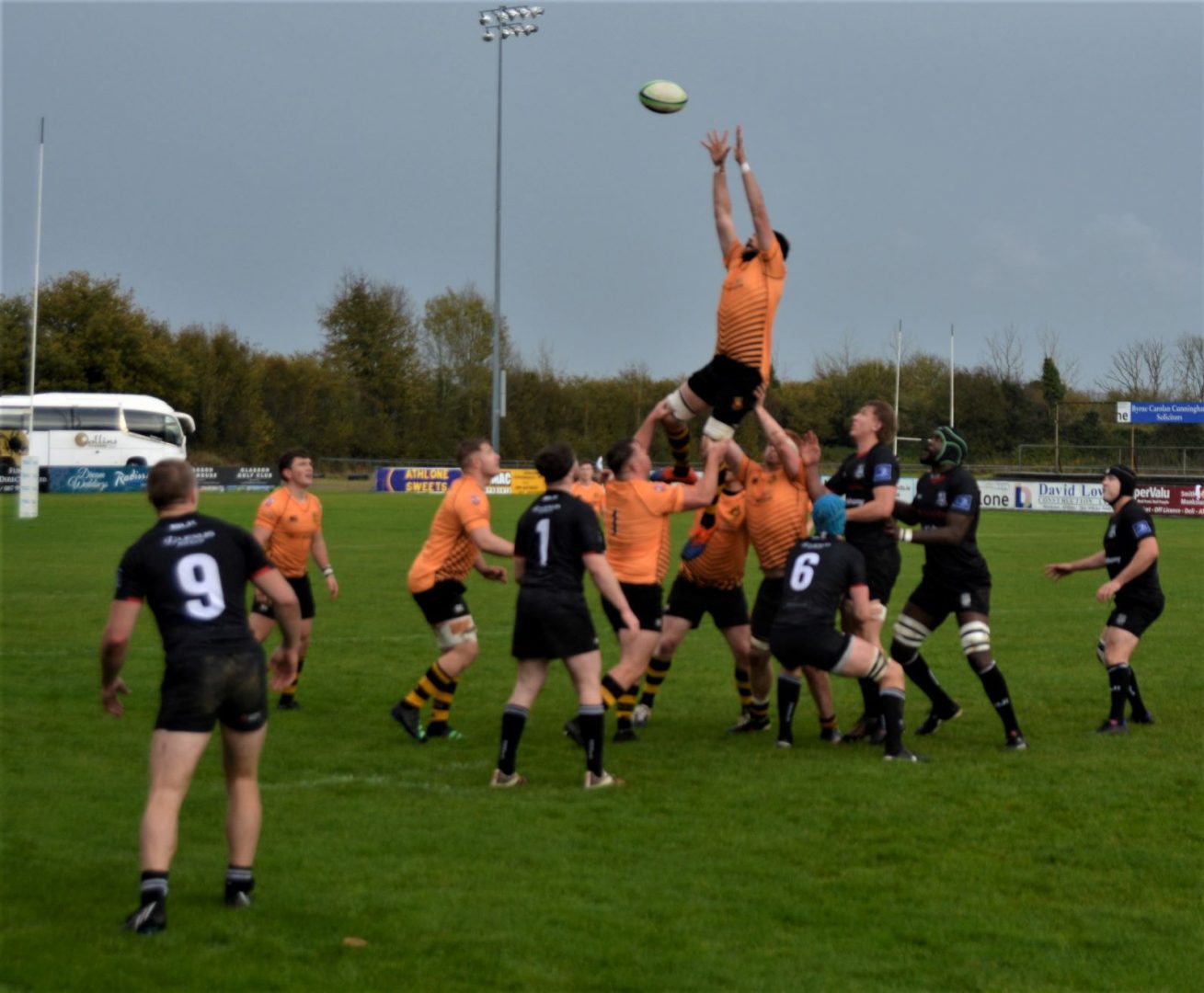 Hanley's conversion tailed narrowly wide in the wind but Buccs were now in the ascendancy and not about to let victory slip. The rain returned, this time in biblical deluge, as the Pirates penned Old Belvedere back. Their sustained onslaught was rewarded with a late penalty in front of the posts where skipper Staunton bravely opted to tap and go. A fierce blitz on the 'blacks' line ensued, Old Belvedere holding out desperately until Hopkins slick pass to Layden whose strength and desire proved too much for defender Patrick Dowling. In the now downpour, Hanley added a magnificent conversion to complete the 24-13 victory that sent the visitors home empty-handed.
Layden may have been the Audi Athlone Man of the Match winner but this was another true all-round squad contribution. After a sometimes indifferent first half, Buccs were more galvanised and clinical following the change of ends. They maintained their momentum until the end as the two final quarter tries will testify but will need to work on defending mauls. McCormack was involved immensely in the proceedings and Delahunt grew into the game as it progressed. Hanley is economical at outhalf where his tackling is immense for a slight frame. Buccs got more from their bench too, an area where Old Belvedere possibly chopped and changed too much. Belvo are a fine athletic and well-drilled side but could not hang on to their lead despite the efforts of Thatcher, Cunningham and Conall Bird while they were profligate with their placekicking.

BUCCANEERS:- S.Jennings; J.O'Connor, S.Layden, S.Mannion, S.O'Carroll; M.Hanley, W.Reilly; J.Kelly, S.Delahunt, M.Staunton (captain); R.Byrne, F.Galvin; D.Qualter, O.McCormack and C.Booth. Replacements:- F.Hopkins (for Reilly, h/t), C.McCann (for Galvin, 55 mins), S.Lombard (for Delahunt, 60 mins), S.O'Connell (for Kelly, 60 mins), R.Fallon and O.Burgess.
OLD BELVEDERE:- J.White; G.Nugent, J.Beckett, J.Leonard, A.Robles; D.Wilkinson, C.Bird; J.Mulherne, C.Dowling, J.Bollard (captain); F.McWey, C.Owende; P.Dowling, T.Mulcair and K.Thatcher. Replacements:- B.Dooley (for Mulherne, 37 mins), J.Mulherne (for Dooley, h/t), A.O'Donnell (for Mulherne, 53 mins), W.McDonald (for Owende, 53 mins), C.Cunningham (for Mulcair, 58 mins), B.Dooley (for O'Donnell, 58 mins), B.Leonard (for Bird, 69 mins), A.O'Donnell (for Dooley, 74 mins) and J.McAleese (for Nugent, 63 mins).
Referee:- Dermot Blake (IRFU).