BUCCS RETAIN TOP SPOT IN LEAGUE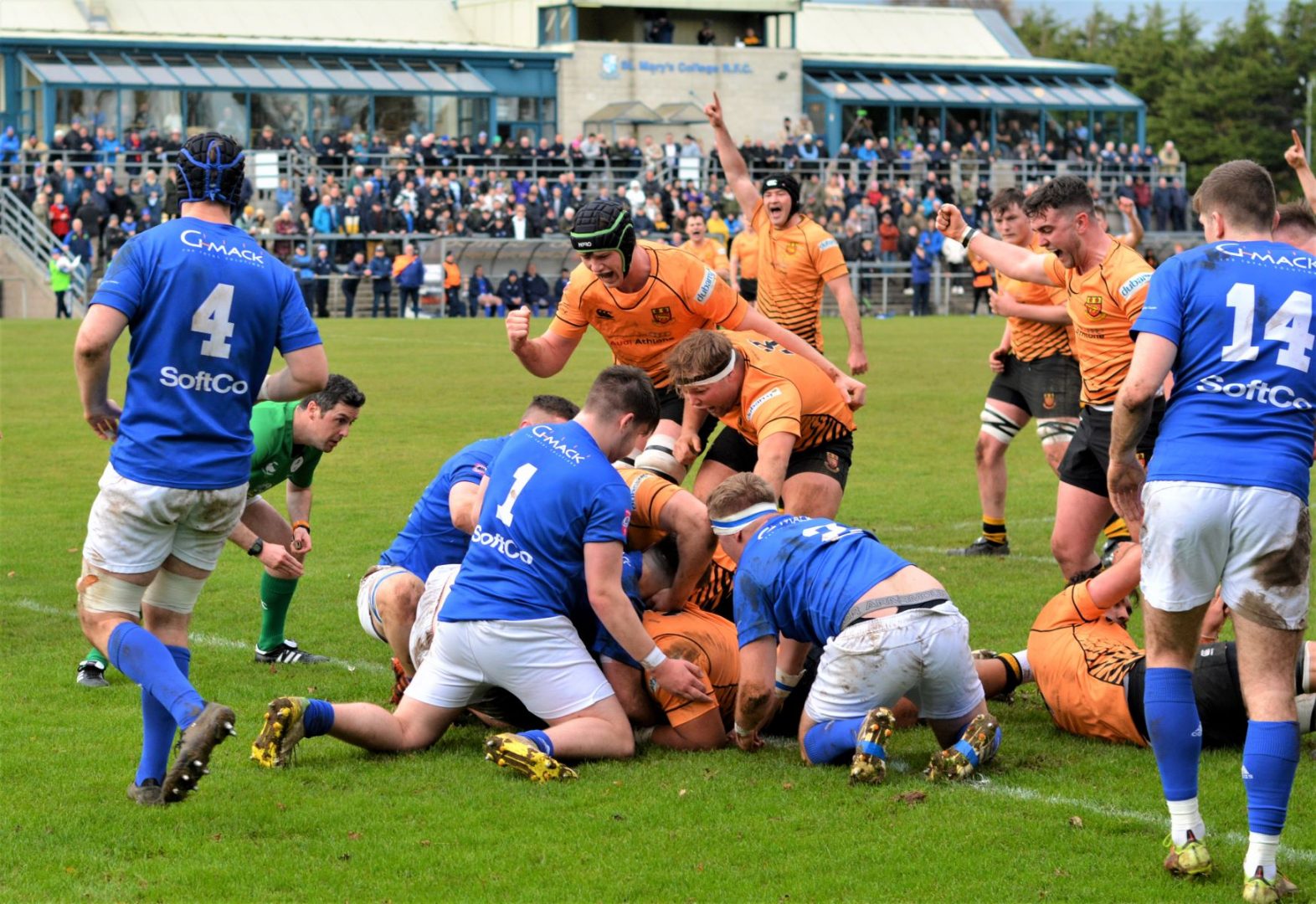 ST MARY'S COLLEGE 9 BUCCANEERS 23
BUCCANEERS maintained their perch at the top of the Energia All-Ireland League Division 1B, and gave a real signal of their intent and potential, with a splendid 23-9 victory over fellow contenders St. Mary's College in front of a big crowd at Templeville Road, Dublin, on Saturday. Although making four enforced changes from the win over UCC, including a total new front row trio, the Pirates were again relentless from start to finish in a fast-moving and highly entertaining contest.
All Buccs changes were in their pack where young props James Kelly and Sean O'Connell were joined by hooker Steveni Lombard in place of the unavailable Matthew Burke and Shane Delahunt while experienced skipper Martin Staunton was anxiously watching the livestream while attending a wedding. Injury ruled out Ciaran Booth so Oisin McCormack switched to No.8 with Cian McCann coming in at blindside flanker. Ronan Foley was restored at No.8 for the hosts with their captain Ronan Watters also moving to blindside in their back row.
Despite the considerable recent rain, the pitch was firm which suited both teams willing endeavours to move the ball quickly. The afternoon was relatively bright with a light breeze and slight slope favouring the home side at the start.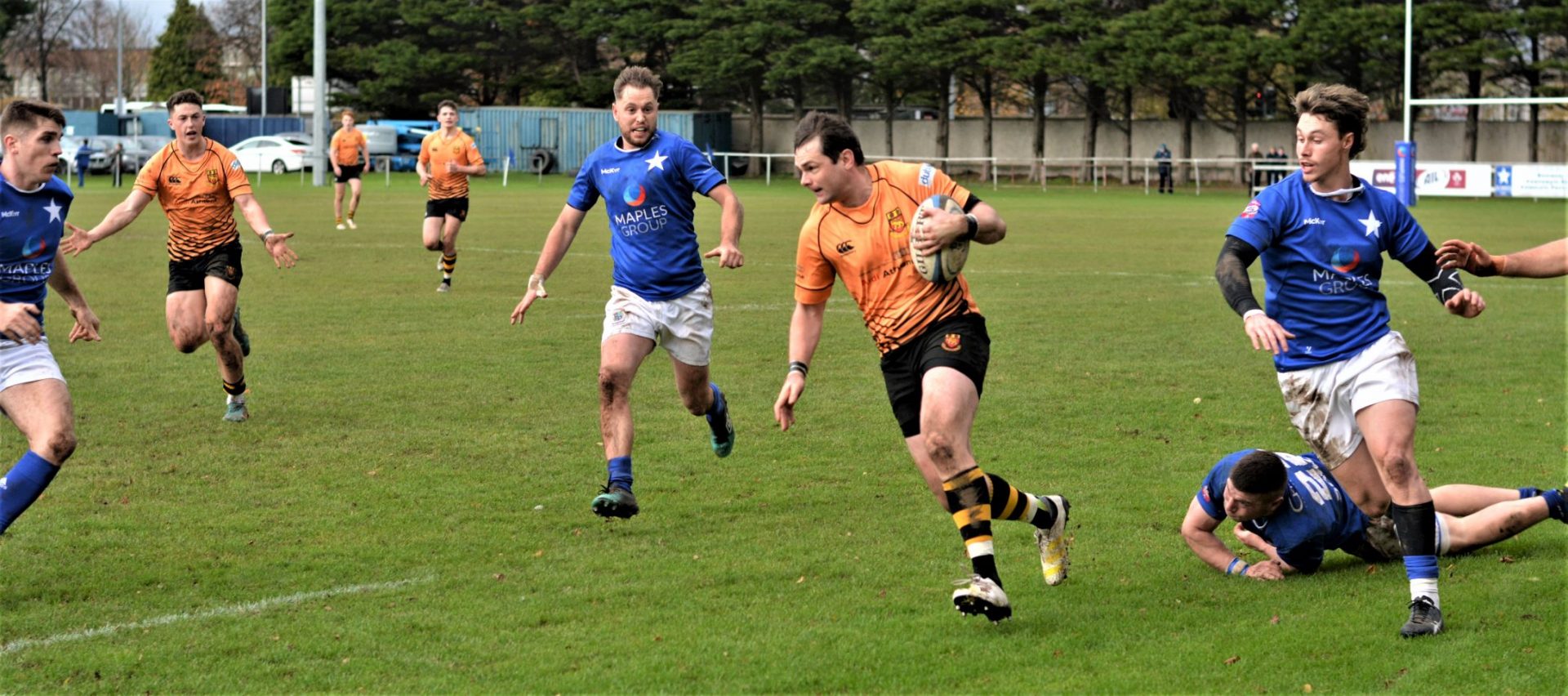 Following a first minute home lineout overthrow, Lombard was quickly surging forward and the action was soon at the other end when, following a 50/20 touch on the right, St. Mary's looked like making an early breakthrough but Shane Jennings' tackle at the opposite corner ended Stephen Kilgallen's snipe.
But two minutes later the Blues were ahead when McCormack was harshly penalised for not rolling away in front of his own uprights and Michael O'Gara opened the scoring with the straight-forward penalty. But this did not upset Buccs plans and soon they were back on the offensive, Shane Layden making significant yardage with a kick to touch on the left. The Saints infringed as they tried to get a maul going and Buccs worked the line where Darragh Murray won clean possession and hooker Lombard powered over for a 12th minute try with Harry West's conversion falling short.
St. Mary's survived another Pirates raid up their left flank when Saul O'Carroll and McCormack combined but the latter's return pass was intercepted by Foley. The game continued to flow from end to end and Conor Hickey made a terrific break for the metropolitans that eventually led to a second successful O'Gara penalty at the end of the opening quarter after Buccs were guilty of not releasing in a tackle.


Buccaneers continued to take the game to the homesters and a wild clearout on Frankie Hopkins by Ethan Baxter merited more than the penalty that was punted to the left to set up a serious assault on the home line by the visitors. During this sustained pressure, West got closest to scoring but Foley put in a try-saving 29th minute tackle on the line.
Still the momentum remained with the midlanders and, as they continued to attack, West kicked a smashing crossfield kick to the left where O'Carroll untypically knocked on with the line at his mercy. McCann made a terrific offload to Layden but his link with O'Carroll was closed down. St. Mary's finally made some inroads into Buccs territory in the closing stages of the half and Hopkins incurred a career-first yellow card for an untidy tackle on Kilgallen just before the interval which arrived with the Blues somehow still ahead by 6-5 at the break.
Although temporarily depleted after the change of ends, with Will Reilly in at scrumhalf and McCann being the sacrificial lamb, Buccs remained on the offensive. Lombard thought he had touched down for a second try but Buccs had knocked on at a Blues lineout. However, the Pirates continued to raid, probing with some sublime handling from side to side and their enterprise was rewarded when Jennings showed tremendous strength and desire to crash through three St. Mary's tacklers for a 47th minute try converted by West.
Seven minutes later the outhalf put Buccs 15-6 ahead with a fine penalty but O'Gara replied for the home side within two minutes. West was then off-target with a longer placekick when it may have been more prudent to work the touchline and, although Buccaneers were dominating, the game remained finely balanced as it entered the final quarter.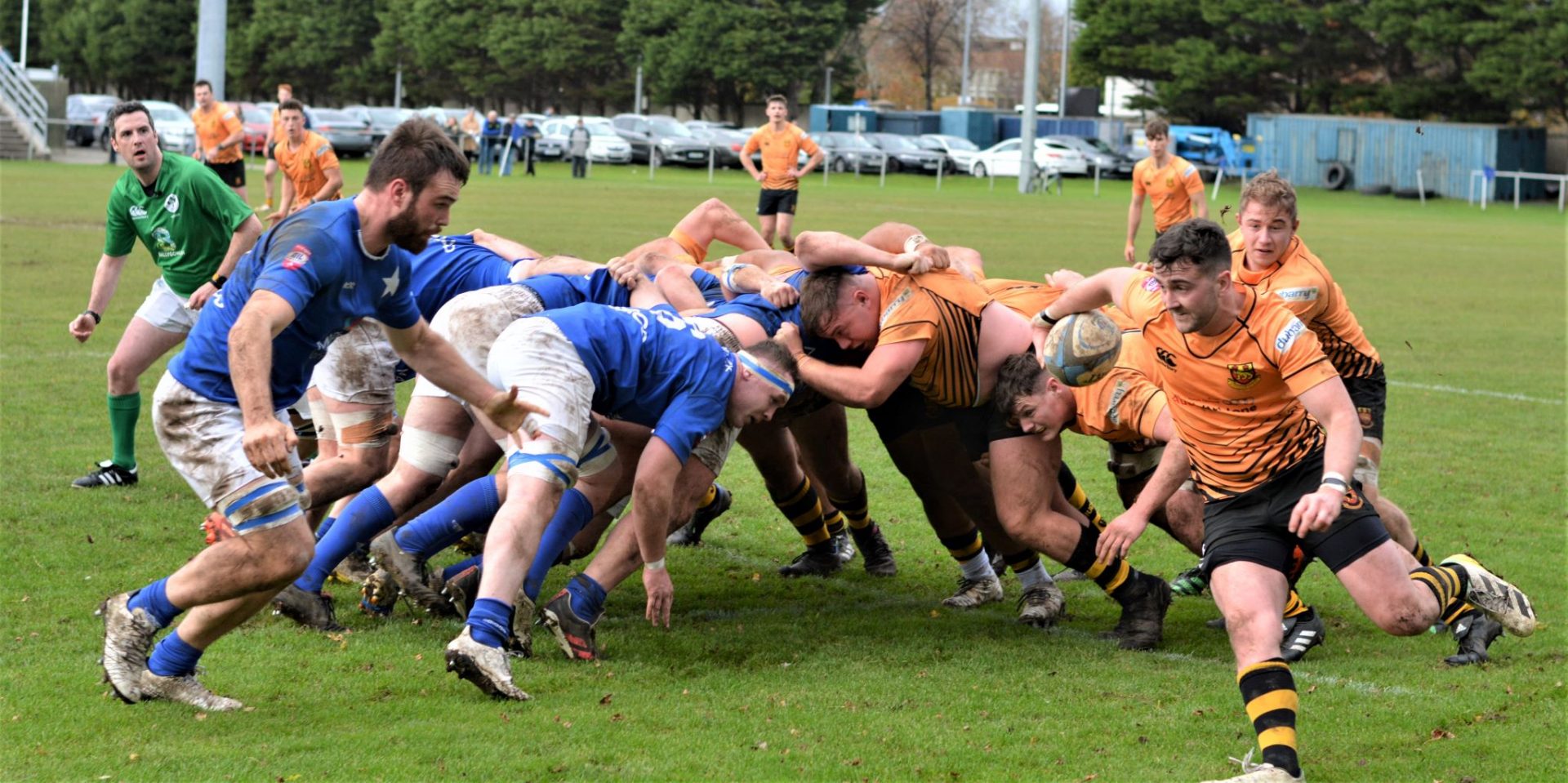 St. Mary's eventually enjoyed some attacking territory in the final ten minutes when O'Carroll was sin-binned for a perceived deliberate knock-on, but they found the Pirates defence impenetrable with the slight frame of Reilly getting in under a home maul to deny them a touchdown at the left corner. Josh O'Connor ran on to a super West diagonal kick but the Blues cover got back to halt his progress. However, the Shannonsiders forced a 75th minute penalty which West slotted over to put two scores between the teams. O'Gara was yellow carded at this stage following a late tackle.
Buccs sealed the victory when Jennings read a St Mary's offload and he sent West haring down the left flank for an unconverted try in the final move of this non-stop action affair to complete a marvellous 23-9 win that keeps the Athlone club on top of Division 1B.
This was another stirring team performance by Buccaneers combining massive commitment and workrate with some sublime attacking play. With the Seconds playing later that night, the Pirates used just one player from their bench so it meant that the players put in a huge 80+ minutes effort. This was best evidenced in the work of their young front row trio especially Lombard who put in a rollicking contribution while 'Duracell Bunny' McCormack was very involved from start to finish. Layden, Jennings and West excelled in a good backline display.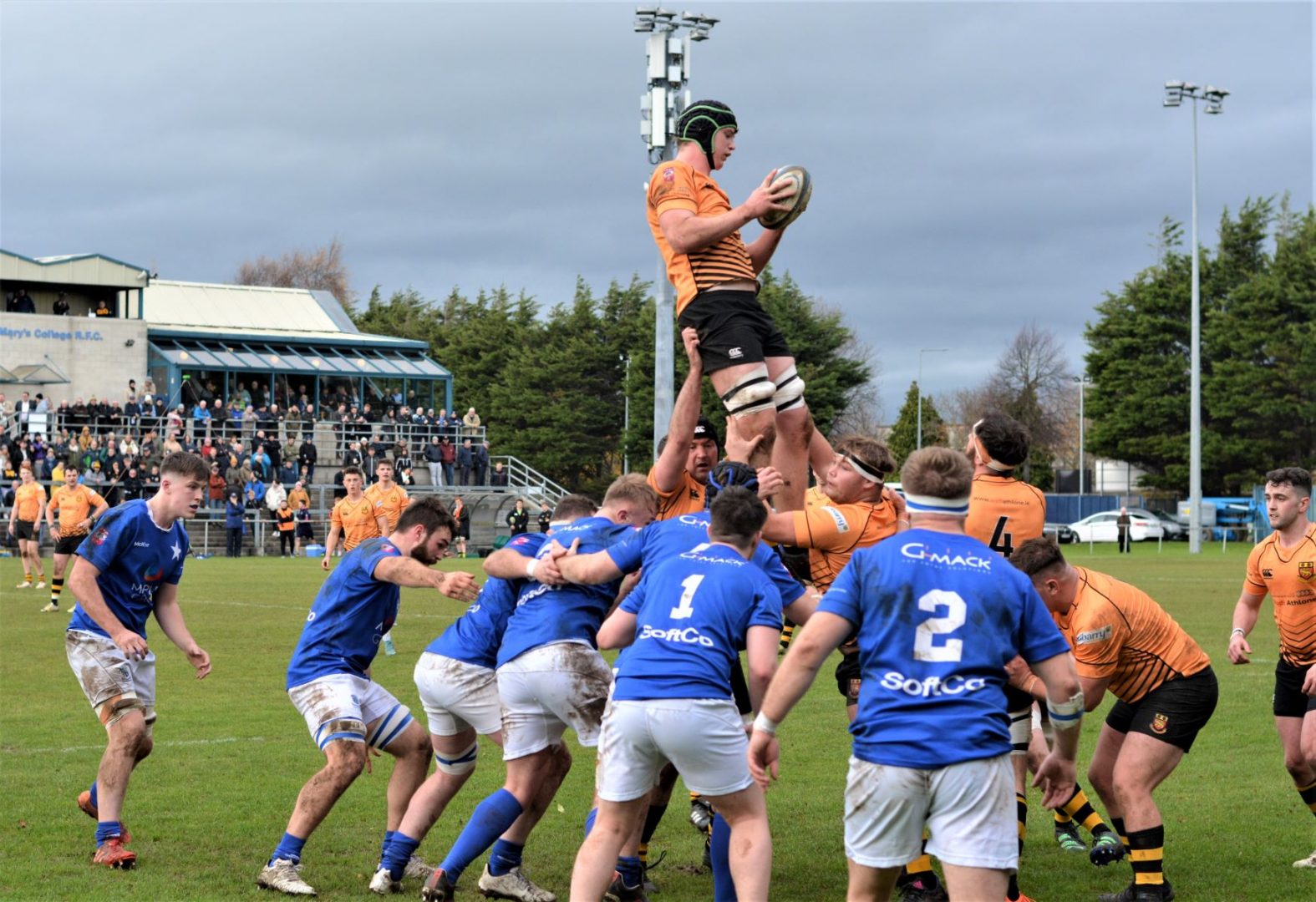 It's been some time since St. Mary's did not score a try in a game and they also failed to manage a losing bonus point, in this their first home defeat of the season, despite the efforts of Foley, Daniel Leane and Hickey. With the other leading contenders also losing ground, surprise packets Buccs now have a four points lead at the top of the league ahead of Saturday's visit to Athlone by Banbridge.
ST. MARY'S COLLEGE:- C.Hickey; H.Conway, M.Fogarty, M.O'Gara, S.Kilgallen; C.Dean, A.McEvoy; A.Mulvihill, S.O'Brien, J.Reidy-Walsh; P.Starrett, D.Leane; R.Watters (captain), E.Baxter and R.Foley. Replacements:- T.O'Reilly (for Reidy-Walsh, 32 mins), R.Halpin (for O'Brien, 45 mins), H.McDonald (for Starrett, 45 mins), N.Hurley (for Baxter, 50 mins), P.Dundon (for O'Reilly, 58 mins), T.O'Reilly (for Mulvihill, 64 mins) and A.Walsh (for McEvoy, 67 mins).
BUCCANEERS:- S.Jennings; J.O'Connor, S.Layden (captain), S.Mannion, S.O'Carroll; H.West, F.Hopkins; J.Kelly, S.Lombard, S.O'Connell; R.Byrne, D.Qualter; C.McCann, D.Murray and O.McCormack. Replacements:- W.Reilly (for McCann, temp. 40/50 mins), W.Reilly (for Hopkins, 64 mins), D.Browne, C.Fokam, F.Galvin, M.Hanley and O.Burgess.
Referee:- Oisin Quinn (IRFU).