BALLINA 14 BUCCANEERS 24
BUCCANEERS put in a much improved showing to claim their first victory of the new Energia Community Series when overcoming Ballina 24-14 at Heffernan Park on Saturday. Buccs were full value for this win which should have been more clearcut had they not allowed the Greens get back into the contest either side of halftime.
Both clubs fielded youthful sides with the midlanders making four changes, two each in the backs and forwards, from the opening day defeat to pool leaders Sligo. In the pack Martin Staunton, unavailable last week, returned at loosehead with Sean O'Connell getting the nod at tighthead. Saul O'Carroll started in a realigned backline where his centre partner saw a surprise inclusion of backs coach Henry Bryce. A number of positional changes also occurred, most notably Brian O'Donnell lining out at No.8 and Luke Carty manning the pivotal flyhalf berth.
A heavy shower just prior to kick off made for greasy conditions (and caught out quite a number of spectators too!) and probably excuses Darragh Corbett's knock on after 7 minutes when a Buccs try looked imminent. However, the Pirates took the lead just a minute later when a good scrum yielded a penalty which Carty slotted over. The Shannonsiders suffered a setback when McDonnell who, although slight of frame, had been very prominent, was forced off through injury.
Buccs continued to force the pace and were eventually rewarded with a try just before the first water break when Mark Balaski, playing on the left wing on this occasion, finished off fine interplay to scoot in for a well crafted try. Carty's conversion put the visitors 10-0 ahead.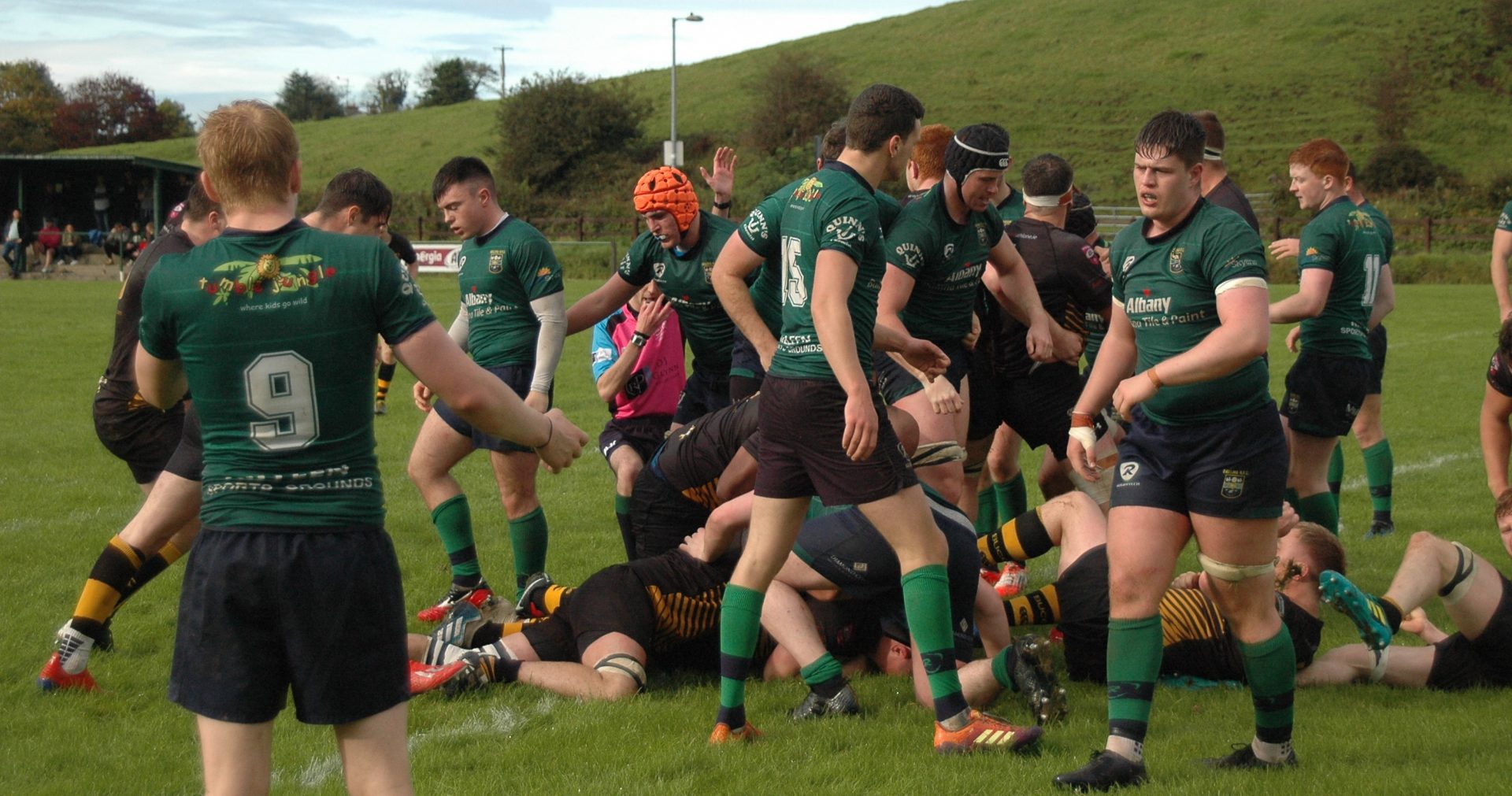 A Bryce rumble after 25 minutes stretched the home defence as the sun now shone and a super Carty penalty to the right corner gave Buccs a promising position two minutes later. Evan Galvin was held up short following the lineout and then an unpunished high tackle on younger brother Fergal kept the home line intact.
Buccs were to rue a lack of precision in that attack as Ballina finally got into the home 22 just five minutes before the interval. Following a long penalty to touch on the right flank, Billy McVann threw to the front of the lineout where Luke Sweeney popped the ball back to the hooker who caught the Pirates dozing on the blindside for a 35th minute try. This energised the Mayo side and, following a teasing diagonal kick, Michael Hanley was forced to put the ball in touch close to his goal-line on the opposite flank. From that lineout Ballina's Darragh Whyte surged over for a final move try. Excellent conversions of both tries by Craig McCormick left Buccaneers trailing 14-10 at half-time, despite having been well on top for long spells.
Another drenching of rain greeted the change of ends and the visitors, who introduced Adam Flanagan and Harry O'Reilly, then got dragged into a dogfight during the third quarter during which McCormick missed his easiest placekick with a 45th minute penalty. But, just as they had done in the opening half, Buccaneers galvanised themselves before the water break and following a number of penalties to the right touch, Darren Browne grounded the ball for a 60th minute try off a terrific maul. Carty duly landed an excellent conversion to edge Buccs 17-14 ahead.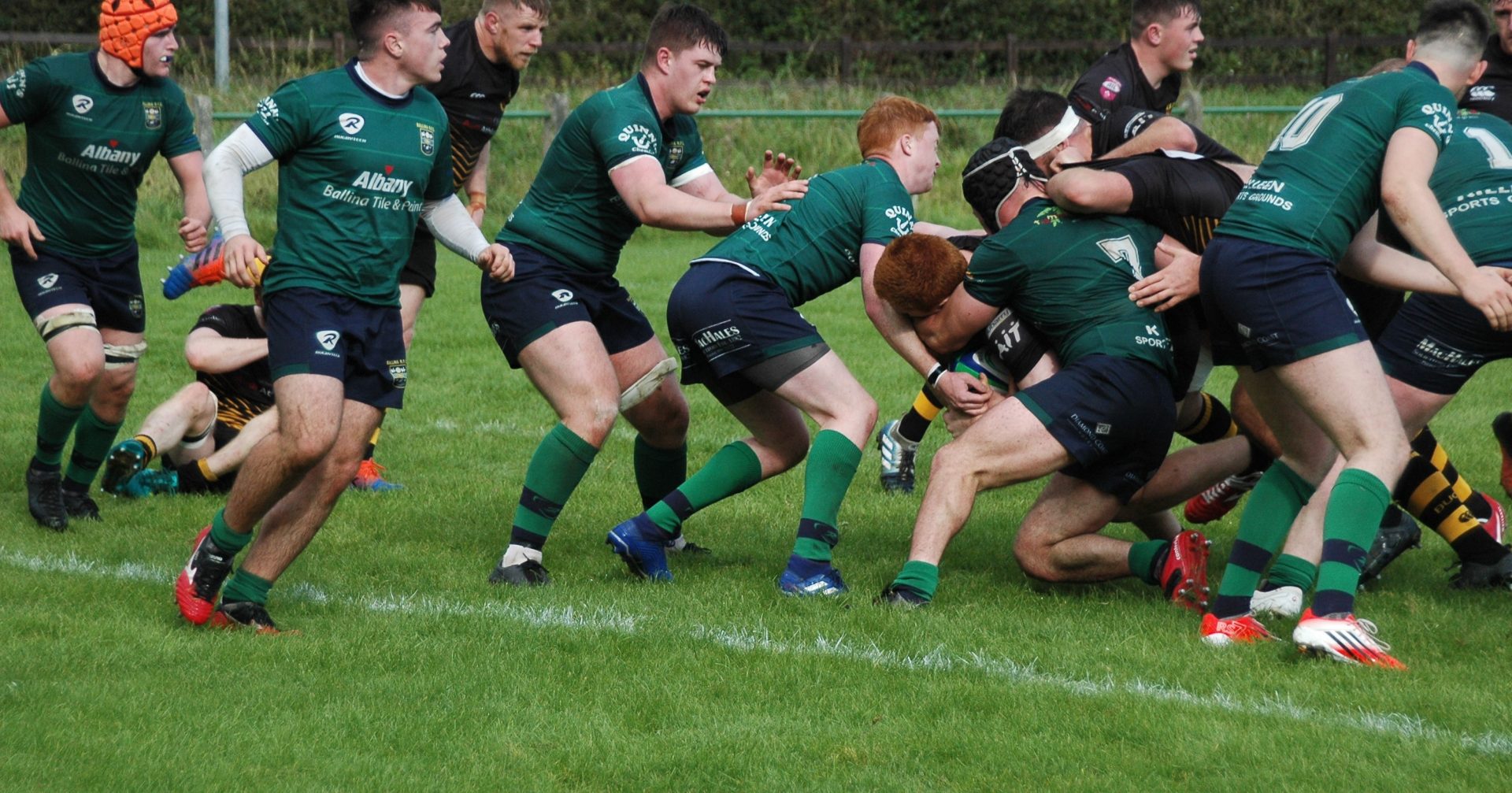 A brief flare-up set the tone for a frantic final quarter with both teams striving to secure a vital score as the play now ebbed and flowed from end to end. Buccs recovered their composure and their impressive pressing forced Ballina into a hurried pass which substitute Eoin O'Reilly did particularly well to scoop off the turf and hare in for a 78th minute try between the uprights.
This made Carty's conversion a formality and all Buccs now had to do was to get a safe grip on the ball from the restart. However, Evan Galvin untypically dropped the ball forward although under little pressure and Ballina threw everything they could at the Pirates in a desperate attempt to salvage a losing bonus point. However, Buccaneers defending was fierce yet disciplined with Bryce to the fore to retrieve the situation and prevail on a 24-14 margin.
Buccs were full value for this victory with a much more organised and committed display although, to quote Roy Keane, they were "sloppy" too often. Nevertheless, it was a much improved overall performance from a primarily young squad who will surely get better with more games and training sessions under their collective belts. Staunton was as solid as ever with the lively Browne prominent and Ruairi Byrne very effective in the forwards battle. The backline looked better structured with the more physical Carty at outhalf and solid duo Bryce and O'Carroll in the centre while sub Adam Flanagan brought a bit of mischief to the contest. Skipper Sweeney, Whyte and McCormick were prominent for the hosts.
BALLINA:- D.Whyte; B.Nealon, A.Corduff, R.Molloy, J.Luskin; C.McCormick, C.Quinn; S.Clarke, B.McVann, A.Duffy; T.Hannigan, M.Feeley; L.Sweeney (captain), J.Doherty and P.Howley. Replacements:- M.Cribben (for Nealon, inj. 20 mins), B.Boland (for Duffy, 27 mins), M.Finnerty (for Hannigan, 60 mins), M.McDermott (for McVann, 78 mins) and N.Keane.
BUCCANEERS:- M.Hanley; D.Corbett, S.O'Carroll, H.Bryce, M.Balaski; L.Carty, G.Fallon; M.Staunton, D.Browne, S.O'Connell; R.Byrne, S.Kroupa; F.Galvin, E.Galvin (captain) and B.McDonnell. Replacements:- R.Flanagan (for McDonnell, inj. 11 mins), H.O'Reilly (for O'Connell, h/t), A.Flanagan (for Fallon, 45 mins), R.Grenham (for Browne, 66 mins), E.O'Reilly (for Bryce, 66 mins) and H.Bryce (for Balaski, 75 mins).
Referee:- Shane Gaughan (Connacht).