BUCCANEERS 10 MU BARNHALL 23
MU BARNHALL got back to winning ways in the Energia All-Ireland League Division 2A when they overcame Buccaneers 23-10 in this Hodson Bay Group sponsored rescheduled fixture under the Dubarry Park floodlights on Friday night. But this was a much more closely contested encounter than the scoreline indicates for a final move of the game try gave the league leaders a flattering winning margin whilst also denying the Pirates a losing bonus point, which was the very least the Athlone club deserved.
Weather and playing conditions were perfect (in vast contrast to the previous Saturday) and a generally fast-flowing and entertaining contest unfolded in front of a decent attendance boosted by considerable travelling support for the visitors. Buccs made four changes (three enforced) for this match, three of them in their three-quarters line with injury also ruling hooker Declan Adamson out.
Nevertheless, the midlanders made a lively start and an early lightening break by Rory O'Connor almost outmanoeuvred the Barnhall defence but led to a penalty on the left which Luke Carty thumped over after 4 minutes. However, the light blues responded swiftly and, following a penalty to the right corner and a subsequent series of close-in scrums, William Reilly peeled away for an 8th minute try converted by his half-back partner Adam Chester.
Play continued in end to end fashion and Colm Reilly was stopped just short of the visitors' line. When the ball was recycled a high tackle denied Sean Masterson as he attempted to ground the ball. Following the ensuing penalty, Carty made a snipe before sending Graham Lynch in for an 18th minute smartly-taken try which Carty converted. While justice was done, it was surprising that neither a penalty try was awarded or yellow card produced for the try-saving high tackle.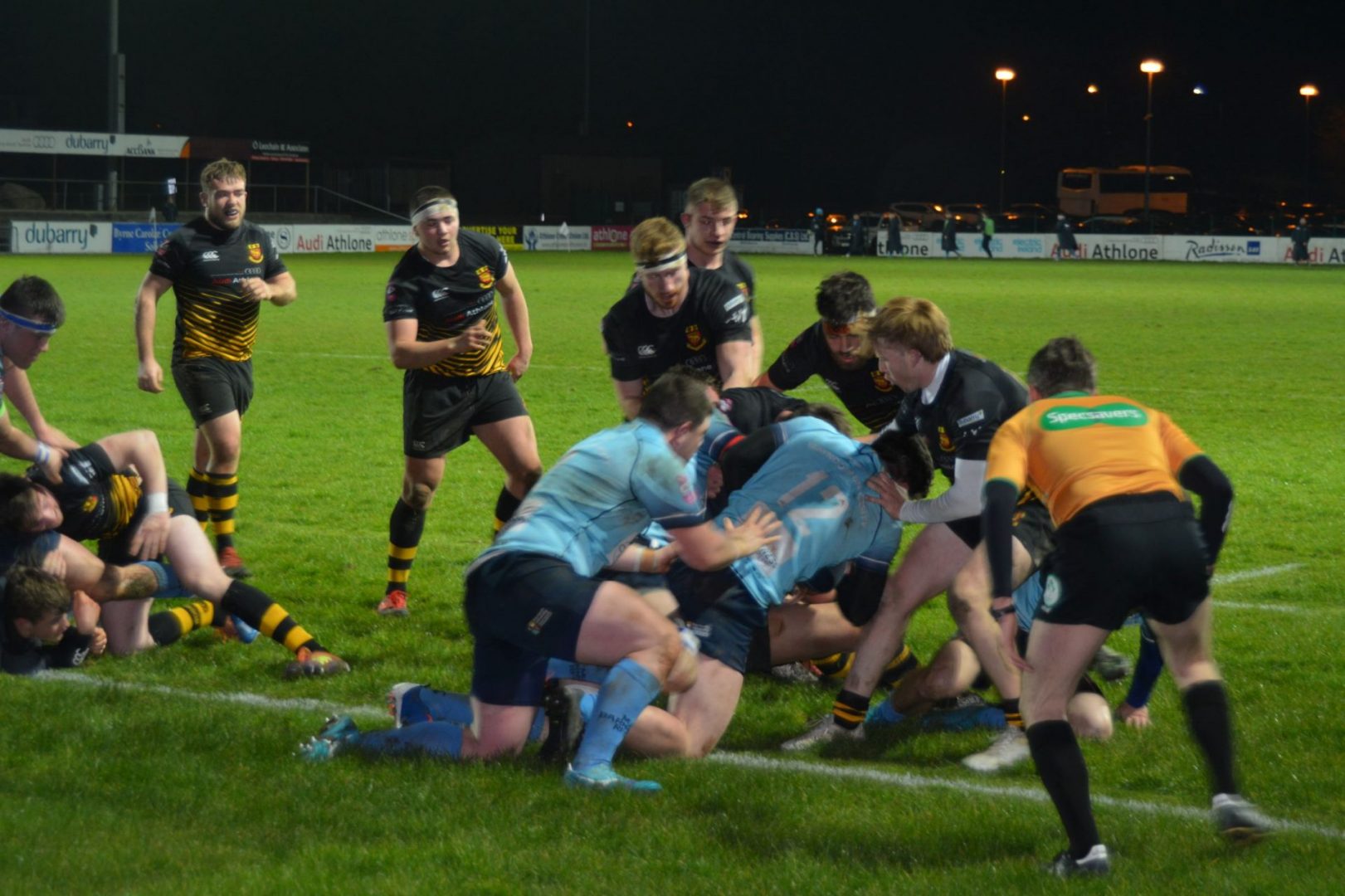 Nine minutes later Chester levelled the scores after Buccs were caught offside. Carty then saw a booming on-target penalty kick from the halfway line dip just under the crossbar and so the teams were evenly matched 10-10 at half-time.
O'Connor, with Eoghan O'Reilly in support, made another typically exciting break just after the change of ends. Then a 47th minute MU Barnhall lineout went awry close to their line but the ball squirmed from Reilly's grasp as Buccaneers continued to take the game to the visitors. As a light drizzle commenced, it remained nip and tuck. The Pirates, despite a period of pressure, could not capitalise on Gareth Murray's yellow card for a 57th minute tip tackle before Chester's 65th minute 40-metre penalty edged the Leinster side back into the lead.
Soon afterwards substitute Darragh Murray got a blockdown on an attempted clearance by Chester but the ball spun into touch before Buccs could capitalise. Matthew Alborough made a terrific break for MU Barnhall as the game continued to ebb and flow before Chester extended the visitors' lead to 16-10 with a 72nd minute penalty.
Buccaneers then suffered a sucker punch with the clock in the red after MU Barnhall found touch just metres from the home line. Buccs, inexplicably, opted for a long lineout throw which was overhit and the visitors promptly capitalised with big lock Brendan McSorley powering over for a try and Chester duly added the conversion to complete their 23-10 winning margin.
This was rough justice for Buccaneers whose overall performance in a very entertaining joust was highly commendable. The team continued their recent improvement and, had execution been that bit sharper, then they would surely have taken at least a point or two from this contest.
Teenage prop Harry O'Reilly was a worthy 'AUDI ATHLONE Man of the Match' winner and another young duo Oisin McCormack and Matthew Murphy acquitted themselves well in the forwards exchanges against a bigger pack. O'Connor looked the Pirates most potent back and half-backs Carty and Reilly were composed throughout. Workrate and tackling were generally impressive and, had their execution been a bit sharper on occasion, then Buccs could have claimed a significant scalp in a most encouraging display.
BUCCANEERS:- E.O'Reilly; R.O'Connor, D.Corbett, M.Hanley, G.Lynch; L.Carty, C.Reilly; H.O'Reilly, D.Browne, M.Murphy; E.Galvin (captain), R.Byrne; C.Maulaulau, O.McCormack and S.Masterson. Replacements:- R.Grenham (for Browne, 20 mins), S.O'Connell (for Murphy, 49 mins), D.Murray (for Maulaulau, 59 mins), C.Maulaulau (for McCormack, inj. 62 mins), D.Browne (for Grenham, 62 mins), M.Murphy (for O'Connell, 64 mins) and R.Enraght-Moony (for O'Reilly, 76 mins).
MU BARNHALL:- R.Holt; M.Alborough, E.Quinn, S.Higgins, C.Lacey; A.Chester, W.Reilly; G.Brooks, C.Duff, D.Jennings; C.O'Brien, B.McSorley; D.Murphy, P.Nalty and T.McKeown (captain). Replacements:- G.Murray (for Duff, 45 mins), S.Stokes (for O'Brien, 45 mins), R.Mullen (for Higgins, temp. 50/57 mins), C.Duff (for Nalty, temp. 60/67 mins), D.Francis-Smith and D.Egan.
Referee:- Chris Harrington (IRFU).