Although dominating both territory and possession Buccaneers again came up short when going down 12-10 to Old Crescent in their Energia All-Ireland League Division 2A game played at Dubarry Park on Saturday. When the sides met at Rosbrien just before Christmas, it proved another low scoring encounter and Buccs will rue missed opportunities on both occasions. For their part the Limerick club can thank a sustained and unflinching defensive effort by their standard bearers allayed to a slice or two of good fortune for this victory which keeps them firmly in the top four play-off hunt.
Both sides were much changed from that outing. Buccs made seven alterations, one enforced with Shane Layden injured at Rosbrien replaced by Corey Reid in the three-quarters line where Darragh Corbett also returned. Luke Carty and Colm Reilly, both replacements at Limerick, formed the half-back pairing with Conor Kenny, Declan Adamson and Sean Masterson returning in the pack. Ed Barry who came on as a substitute pre-Christmas retained the scrumhalf berth for the visitors who also gave starts to forwards Alex Simpson, Karl Madden, Darragh O'Brien and Tevita Tali Toia.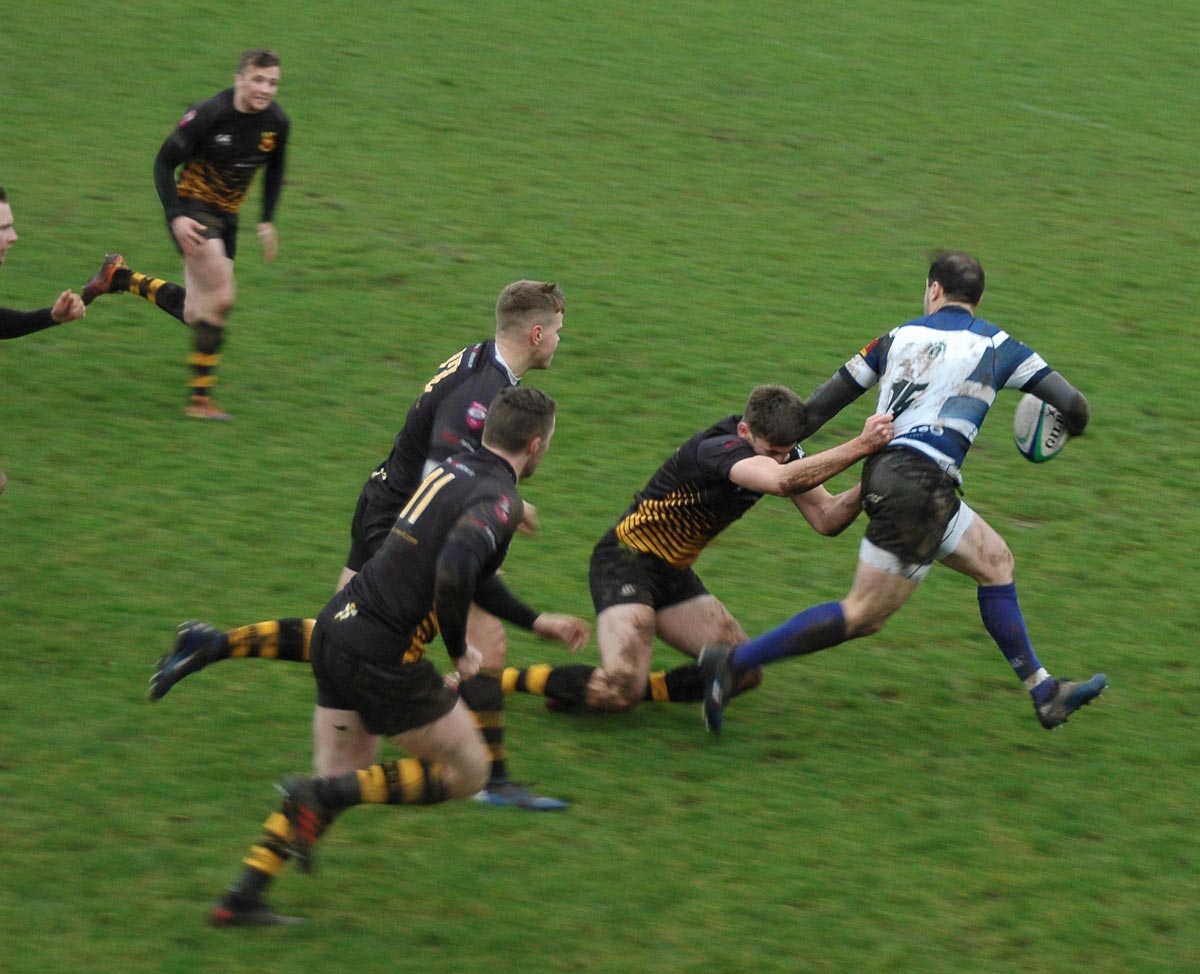 Heavy rain prior to kick off meant that underfoot conditions were really soft. Buccs dictated from the start and concerted pressure yielded a 9th minute penalty which Carty thumped over from 45 metres. Although keeping the visitors on the back foot, the Pirates did not add to their tally and, in a rare foray into the home 22 Old Crescent took the lead against the run of play. Val McDermott's chip ahead was chased strongly by Tali Toia, forcing Eoghan O'Reilly to carry the ball into touch close to the home line. In the resultant lineout Evan Galvin was yellow carded for taking out a jumper. Old Crescent now scented their chance but found depleted Buccs defence defiant, the home efforts resulting in the ball going loose. Ross Murphy-Sweeney booted the ball clear and was clearly impeded in endeavouring to chase after it, referee Henry Richmond surprisingly not penalising the Munster side. The ball went to Lorcan Kavanagh and as he surged forward Corbett slipped in the greasy conditions and suddenly the fullback was diving over Buccs line for an unconverted 21st minute try.
This stung Buccs and, following a lineout to the right corner, Max Kennedy won possession and Corbett broke on the blindside. He was held up as was Kenny but a free kick ensued. This was quickly tapped and Murphy-Sweeney swooped for a 25th minute try with Carty adding an excellent conversion from wide on the right for a 10-5 lead.
Buccaneers continued to enjoy the better of the exchanges and a very promising 36th minute move looked like unlocking the Old Crescent cover. However, Carty's pass to the left was well read by McDermott and the flying winger raced away from deep in his own half for an opportunist try which Maccon Casserly converted.
Buccs responded feverishly and piled on pressure close to the Munster side's line that earned scrumhalf Barry a visit to the sin-bin for slowing the ball illegally. Although the homesters got over the Old Crescent line between the uprights they were deemed to have been held up and thus trailed 10-12 at the interval.
The second half started in frenetic fashion with Buccaneers continuing to force the pace while Old Crescent were granted considerable leeway at set-pieces in slowing the momentum. The midlanders were playing the more attractive rugby but did not always help their cause through errors and decision making. Scoring opportunities were even rarer following the change of ends before a rampaging burst forward by Ryan O'Meara was followed by a splendid touch from Carty that kept the Limerick side penned back.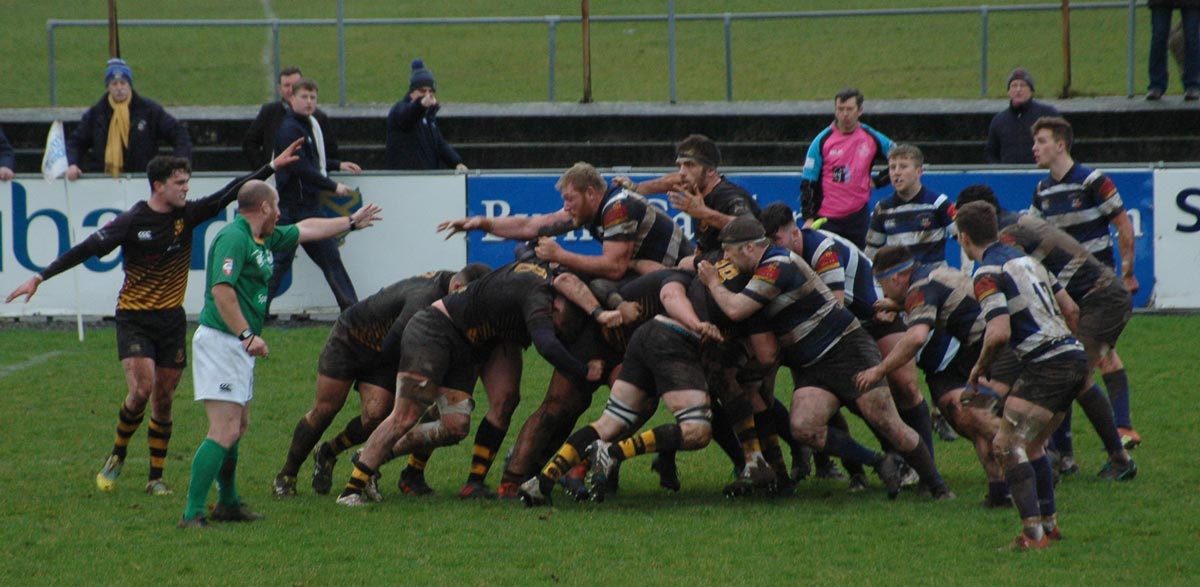 Buccs efforts earned a 67th minute penalty that should have put them back in front but Carty was surprisingly off-target from a fairly straight-forward position. Matters got worse for the home outhalf five minutes later when his attempt to clear out at a ruck incurred the wrath of the referee, resulting in Carty finishing the game in the sin bin. The Pirates put in a frantic finish but could not breach a really committed and well organised Old Crescent defence as the second half proved scoreless.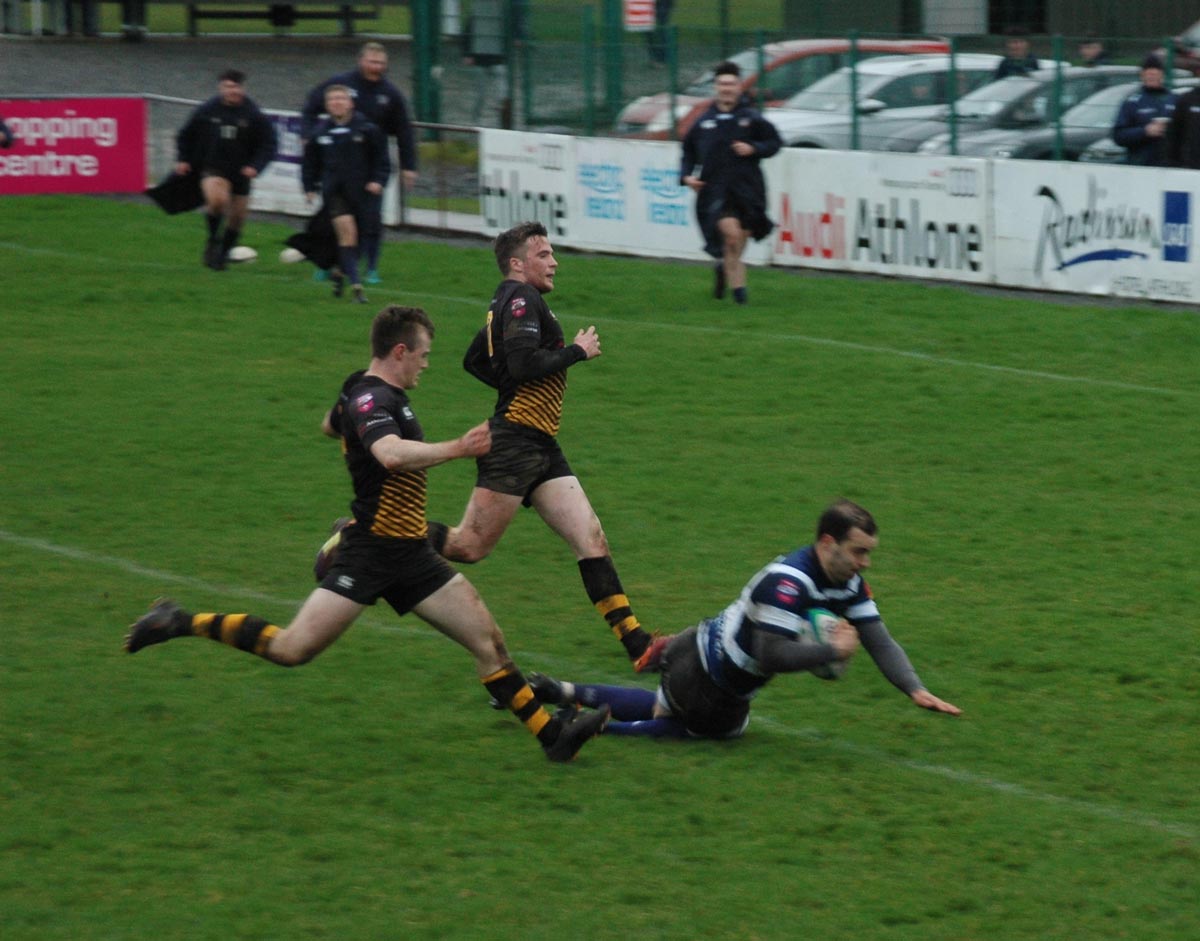 A losing bonus point was little consolation for Buccaneers as they are now beginning to lose touch with the top half of the league leaderboard. Christian Maulaulau's endeavours earned him the Audi Athlone Man of the Match award and he received solid support in the pack from Kenny and Masterson. Corbett carried most threat in the home backline where Saul O'Carroll made another notable contribution.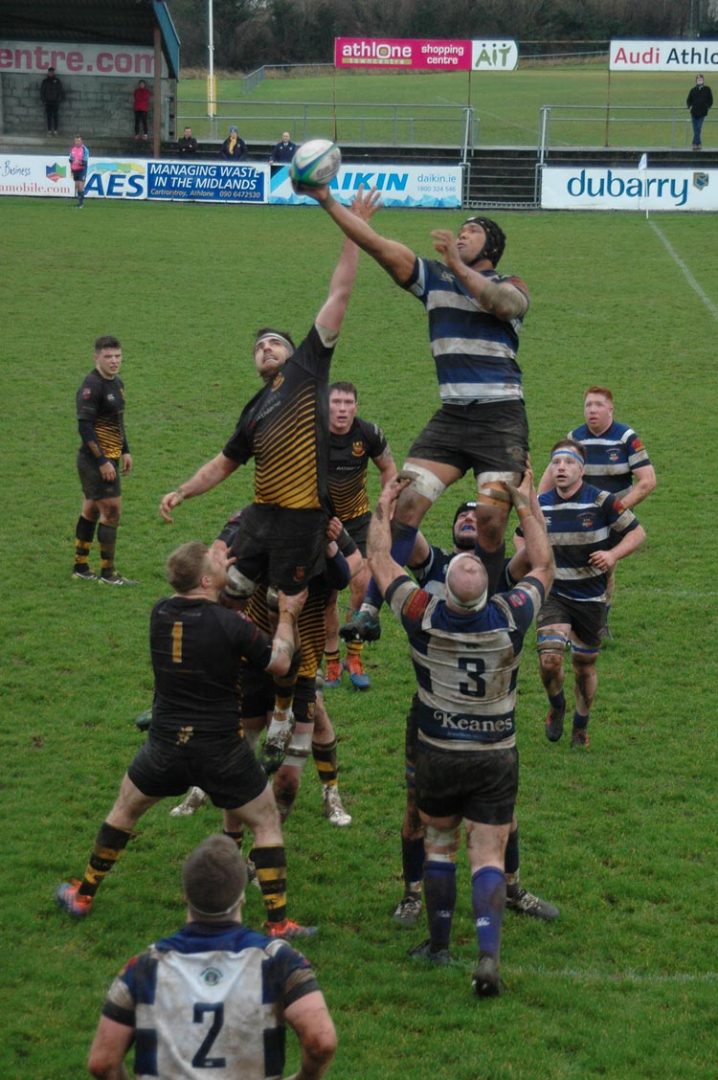 BUCCANEERS:- E.O'Reilly; R.Murphy-Sweeney, C.Reid, S.O'Carroll, D.Corbett; L.Carty, C.Reilly; M.Staunton, D.Adamson, C.Kenny; R.Byrne, M.Kennedy; C.Maulaulau, E.Galvin (captain) and S.Masterson. Replacements:-  T.Rensford (for Kennedy, 58 mins), R.O'Meara (for Staunton, 58 mins), M.Hanley (for Reid, 60 mins), F.Hopkins (for Reilly, 65 mins), M.Staunton (for O'Meara, 77 mins) and R.Grenham.
OLD CRESCENT:- L.Kavanagh; V.McDermott, C.Monaghan, S.Mullally, V.McDermott; M.Casserly, E.Barry; A.Simpson, D.O'Brien, D.Murphy; C.Raele, T.Tali Toia; K.Madden, L.Malone and K.Doyle (captain). Replacements:- G.Fitzgerald (for Madden, temp.), J.Hogan (for Monaghan, 47 mins), A.McCloskey (for Madden, 47 mins), L.Madden (for Raele, 53 mins), R.Gallery (for Simpson, 53 mins), R.Reynolds (for Doyle, 60 mins), C.Monaghan (for McDermott, 72 mins) and K.Doyle (for O'Brien, 77 mins).
Referee:- Henry Richmond (IRFU).