BUCCANEERS 22 TUAM 18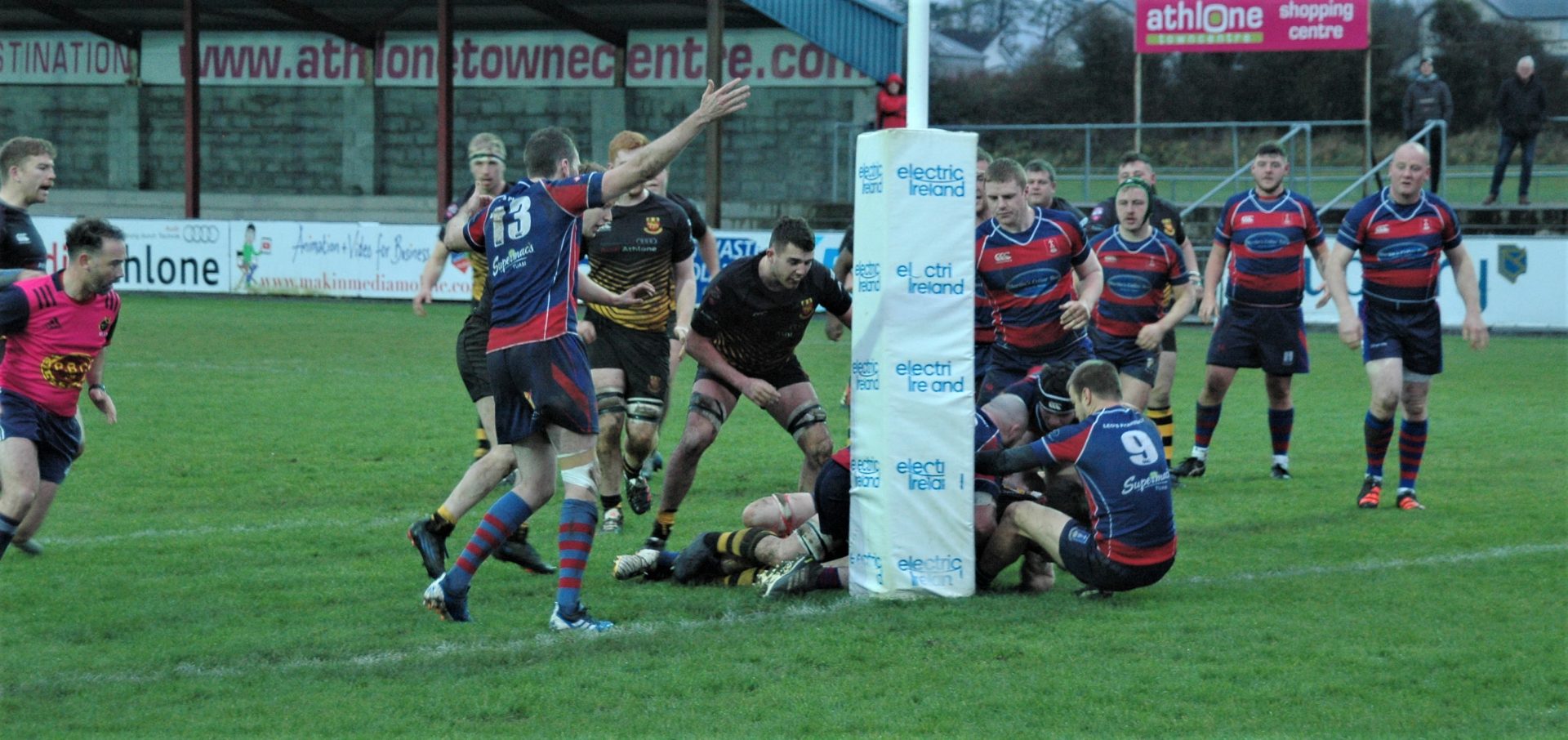 BUCCANEERS recorded a narrow but thoroughly deserved Connacht Junior 1A League 22-18 victory over Tuam at Dubarry Park on Sunday. On a murky dismal afternoon, the Pirates crew displayed commendable resolve to see off the dogged and persistent challenge of the visitors in a hard-fought encounter.
There was just a single point between these combatants when they met just a few weeks ago in the Cawley Cup and Buccs had to again roll up their collective sleeves to win this battle in which the lead changed hands on a number of occasions. Tuam opened the scoring with a 7th minute Killian McDonagh penalty.
The Athlone side responded immediately with Graham Lynch and Harry Hughes combining in a lightening raid that was brought to an abrupt end with a high tackle on Lynch. This resulted in an early visit to the sin bin for Tuam's Rory Cosgrove. Buccs opted for a scrum at this close-in penalty on the right and quick ball was given to Hughes who scythed through for an 11th minute try which Andrew Evans converted.
McDonagh was off-target with a 15th minute penalty but found the range just before the half-hour to narrow the arrears to a solitary point. Within two minutes a swiftly tapped penalty by Lynch yielded a close in placekick which Evans slotted over to extend Buccs lead. They looked like adding to their tally as half-time approached through a series of pick and goes. But they lost patience and did not capitalise on that territory or on a second Tuam yellow card, this time to Sean Maughan, before the break at which stage the Pirates led 10-6.
>
BUCCANEERS:- E.O'Carroll; H.Hughes, D.Mulvihill, A.Evans, H.Balsiger; S.Doyle, G.Lynch; S.O'Connell, T.Thompson, C.Fokam; S.Kroupa, F.Galvin; C.O'Grady, R.Flanagan and B.McDonnell (captain). Replacements:- D.Touhey (for Thompson, 46 mins), N.Harney (for O'Connell, 46 mins), S.O'Connell (for Fokam, 55 mins), J.Scouler (for Flanagan, 55 mins), R.Flanagan (for O'Grady, 61 mins) and J.Nagle.
TUAM:- C.Marsden; O.Halion, K.McDonagh, B.Ruane (captain), R.Cosgrove; S.Browne, A.Tierney; G.Connolly, S.Maughan, N.Carney; D.Cunningham, A.Finnerty; C.Gleeson, E.Sweeney and O.Morrin. Replacements:- D.Noone, S.Leo, J.Fahy, P.Canavan and D.McWalter.