BUCCANEERS 36 RAINEY OLD BOYS 21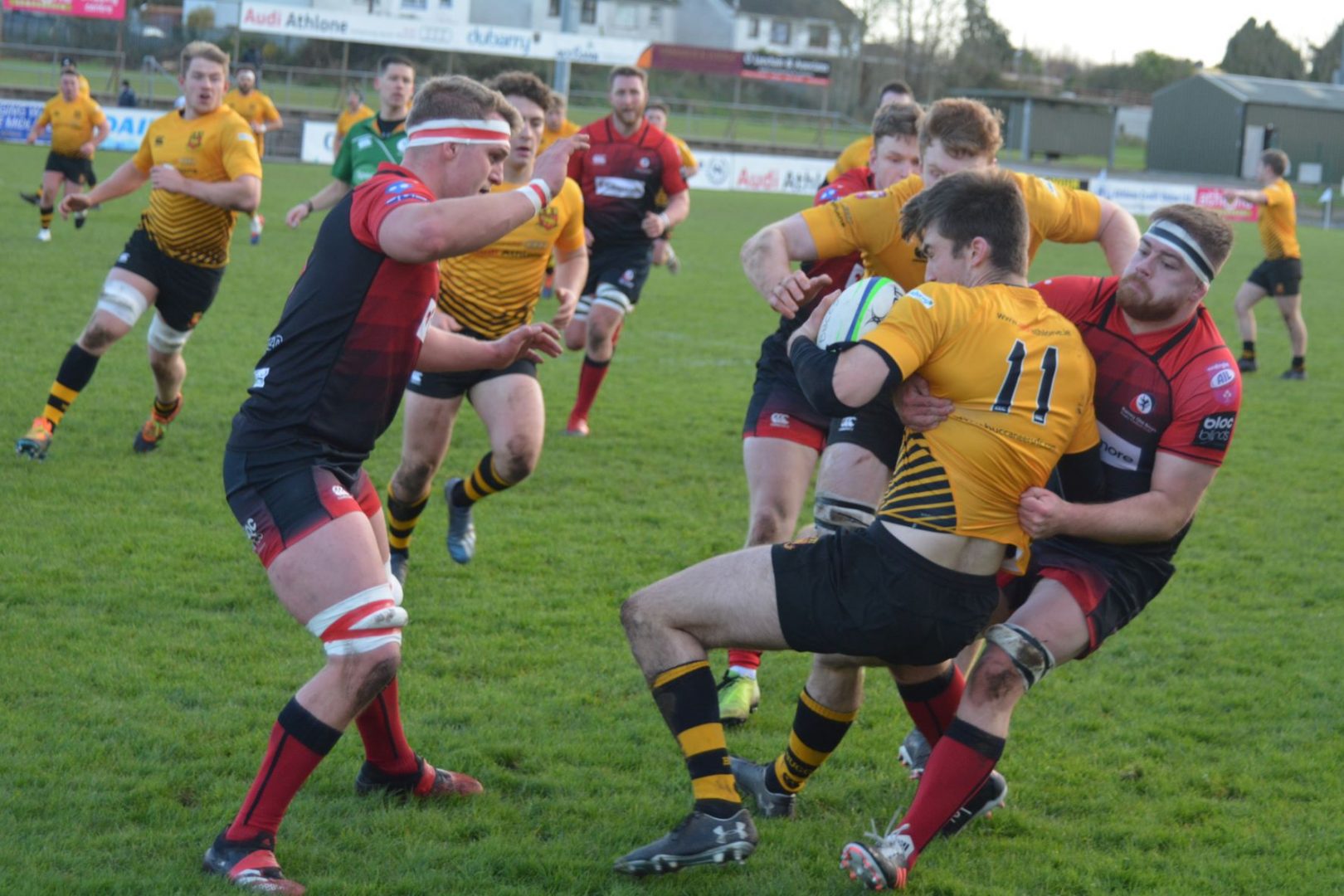 BUCCANEERS maintained their momentum in the Energia All-Ireland League with a clearcut 36-21 victory over Rainey Old Boys at Dubarry Park on Saturday. But, despite scoring six tries in this Hodson Bay Group sponsored Division 2A fixture, this was a far from vintage display by the Pirates. Perhaps it was the biting cold breeze or having no match the previous weekend, but Buccs rarely got into the flow expected from them in the sunny, dry conditions.
The hosts made two personnel changes with Darren Browne starting at hooker and Thomas McGann coming in on the right wing. More notably Michael Hanley was switched to fullback with Ruaidhri Fallon moving to outhalf. The midlanders dictated the early exchanges but poor passes cost them opportunities in promising positions while Fallon punted a close in penalty on the left over the deadball line.
However, some sparkling interplay initiated by Saul O'Carroll down the left flank stretched the visitors and, although Hanley was stopped short of the Rainey line following an offload, Oisin McCormack was swiftly in support to burrow over for a 16th minute try which Fallon comfortably converted.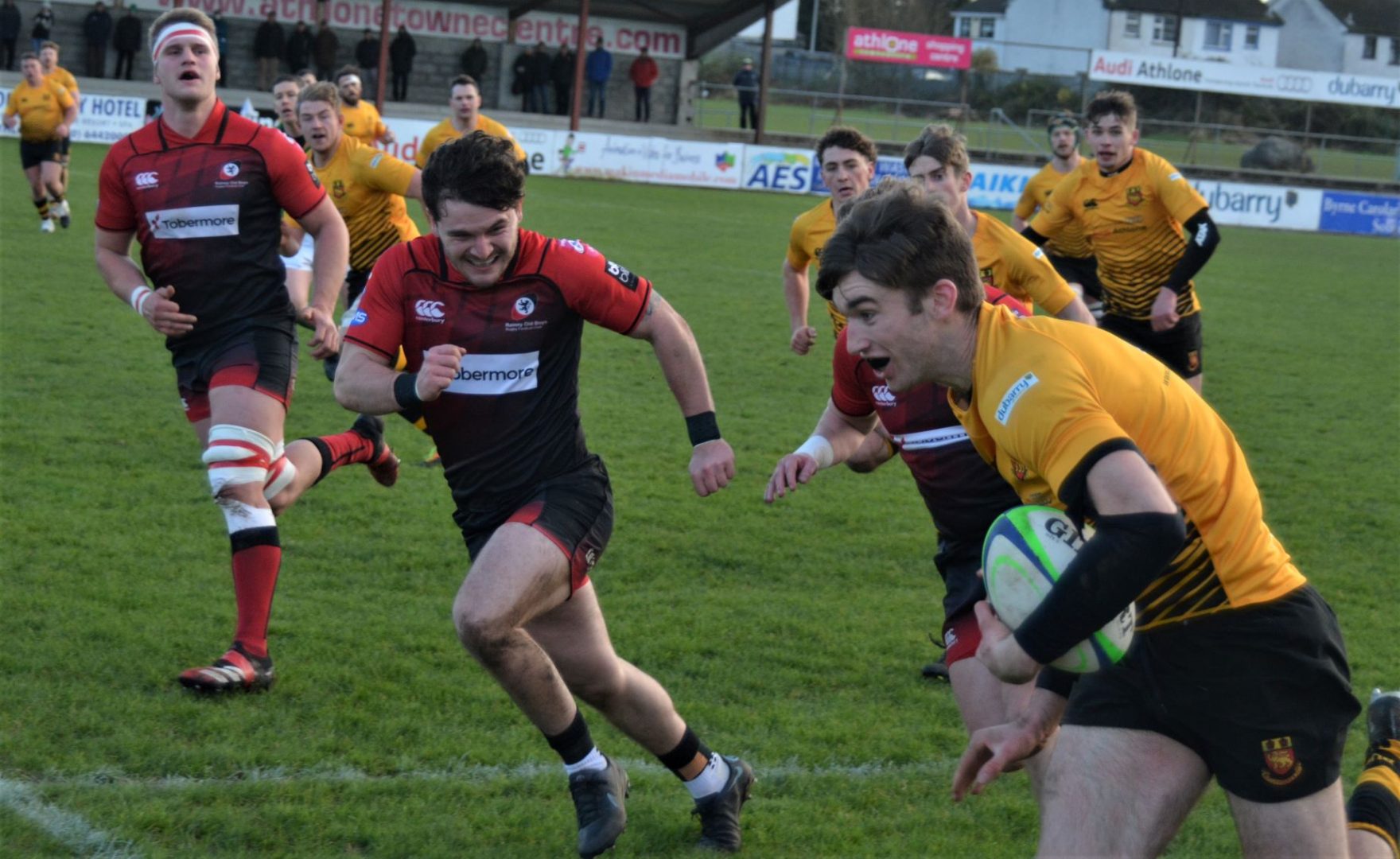 The visitors finally got some territory and, although a thumping Danny Qualter tackle slowed their progress, Connor Fitzsimons hared away from a scrum just inside the home half to notch a try against the run of play. Scott McLean's conversion left the teams tied 7-7.
James Kelly made a thundering charge after the waterbreak and McCormack carried the move on but the homesters conceded a penalty within striking distance of the Ulster side's line. Stephen Mannion then failed to find touch with a second close-in Buccs penalty and the Pirates were soon being made pay for a growing number of errors.
The Magherafelt club made better use of their rarer opportunities and, following some territory on the left, a crossfield kick found Andrew Donaghy unmarked and the Rainey winger touched down untroubled for a 32nd minute try. McLean converted again and this gave the visitors a 14-7 lead at the interval.
But Buccaneers made a flying start to the second half. McGann's clever chip ahead caused mayhem and O'Carroll beat Michael O'Neill to the ball which he grubbered ahead and kept his composure to dot down for a 42nd minute unconverted try. From the restart Ciaran Booth gained possession and rampaged forward from his own ten metre line to score a stunning try. While Fallon's place-kicking woes continued, Buccs were suddenly 17-14 ahead.
Approaching the hour mark, the Shannonsiders put in a series of impressive mauls to gain ground enabling O'Carroll to break along the touchline to notch his second try. Fallon found his range to land a beauty conversion and give Buccaneers a 24-14 advantage at the second waterbreak.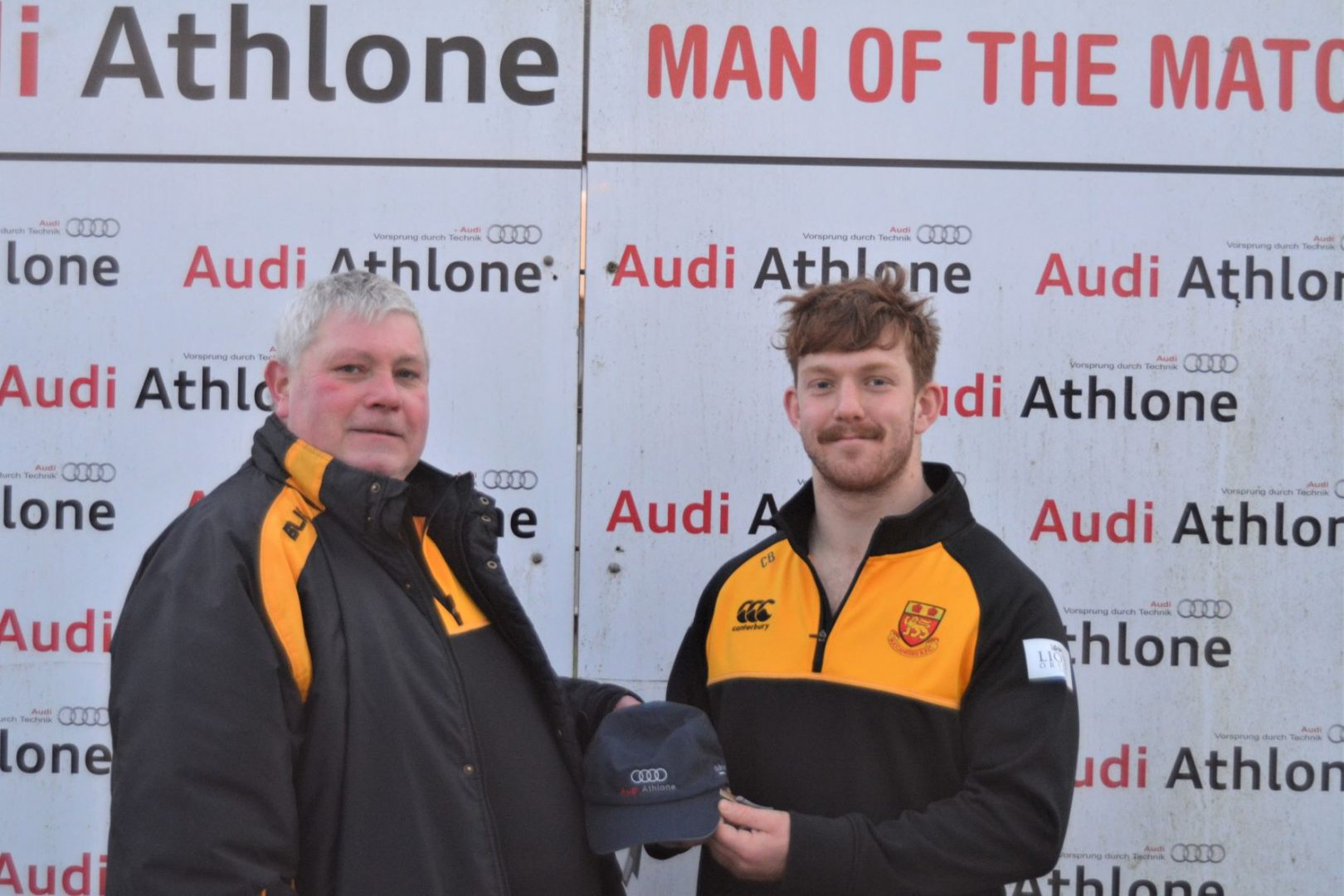 Despite this, the errors continued. Mannion kicked needlessly ahead when Buccs had a three-man overlap to his right while Hanley's drop goal attempt from distance was not his wisest decision. However, good pressure by Mannion and Shane Layden forced a Rainey defensive error and that wily try sniffer Layden made the most of his opportunity to touchdown on 67 minutes. Fallon's conversion pushed Buccs 31-14 ahead.
Spirited Rainey responded with their third try after a home clearance failed to make touch. Calvin Smyth got over the home line and McLean added his third conversion to narrow the arrears.
Buccaneers were ringing impactful changes at this stage and Adam Flanagan's smart offload sent fellow replacement Declan Adamson scampering away toward the Bounty corner for an unconverted try that completed the 36-21 scoreline.
This was a mixed bag display by the winners with far too many errors occurring, many of them unforced, including knock-ons, forward passes, penalties not finding touch and lineouts not on the money. The positional changes at fullback and flyhalf did not work. Fallon, one of the brightest prospects in the club, had one of those off-days when he did not reach his usual high standards, perhaps due to lack of game time in the pivotal role or possibly nerves. But the teenager is a talent that can and will overcome this below par performance, and he was far from alone in making errors. O'Carroll always threatened when in possession and he was unfortunate to sustain an injury when scoring his second try. Kelly continues to blossom in the front row and McCormack made a busy contribution while Booth capped his 'AUDI ATHLONE Man of the Match' display with that magnificent solo try.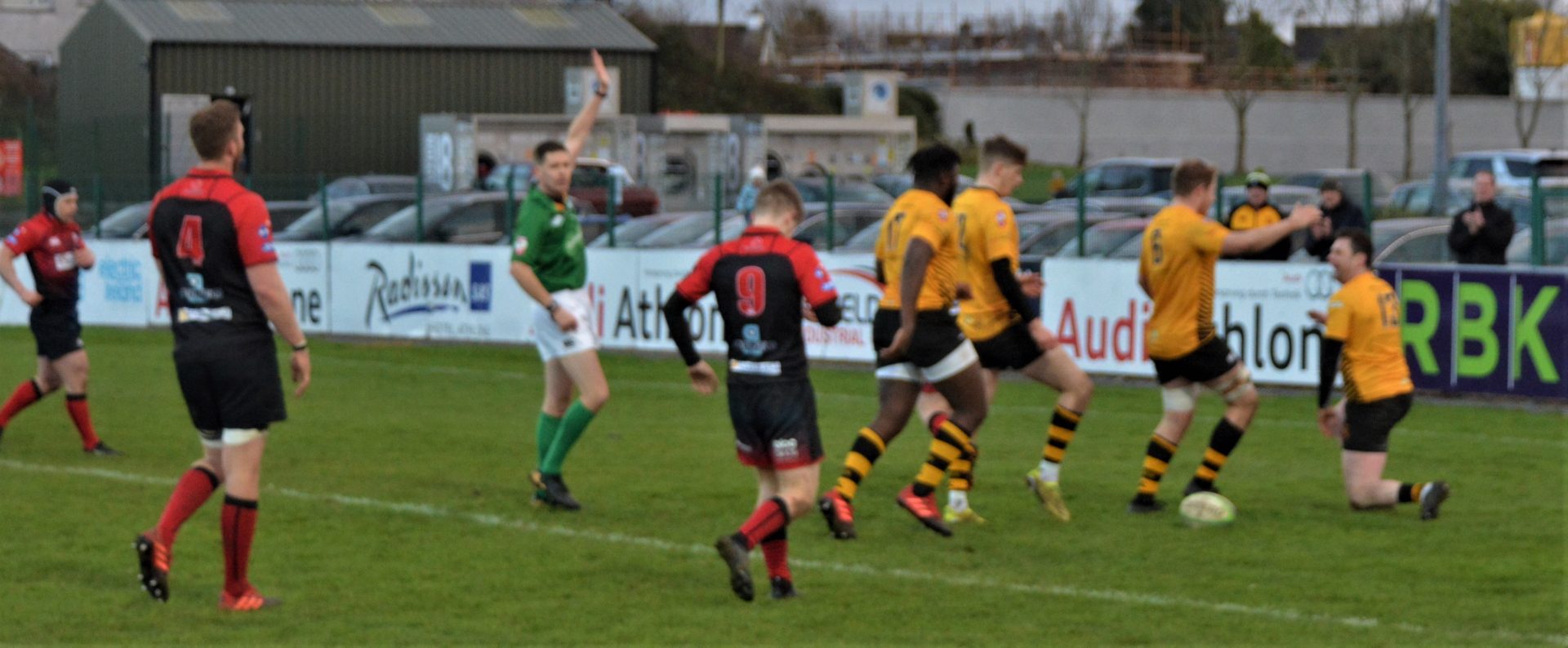 One minute's silence was observed in memory of the late Amanda Sloane prior to kick-off.
BUCCANEERS:- M.Hanley; S.O'Carroll, S.Layden, S.Mannion, T.McGann; R.Fallon, W.Reilly; J.Kelly, D.Browne, M.Staunton; R.Byrne, D.Qualter; O.McCormack, E.Galvin (captain) and C.Booth. Replacements:- D.Adamson (for Browne, 48 mins), S.Illo (for Kelly, 48 mins), R.O'Connor (for O'Carroll, inj. 60 mins), A.Flanagan (for Reilly, 68 mins), F.Galvin (for Byrne, 74 mins) and J.Kelly (for Staunton, 74 mins).
RAINEY OLD BOYS:- M.O'Neill; A.Donaghy, D.McMurray, C.Fitzsimmons, A.Nicholl; S.McLean, R.MacGinty; F.Quinn, M.Nevin, D.McErlain; R.McCusker, M.McCusker; A.Bratton (captain), C.Smyth and J.Bresland. Replacements:- L.Murphy (for Donaghy, 53 mins), A.Browne (for McMurray, 66 mins), L.Montgomery (for McErlain, 74 mins), A.Currie (for Smyth, 74 mins) and N.Hastings
Referee:- Andrew Fogarty (IRFU).