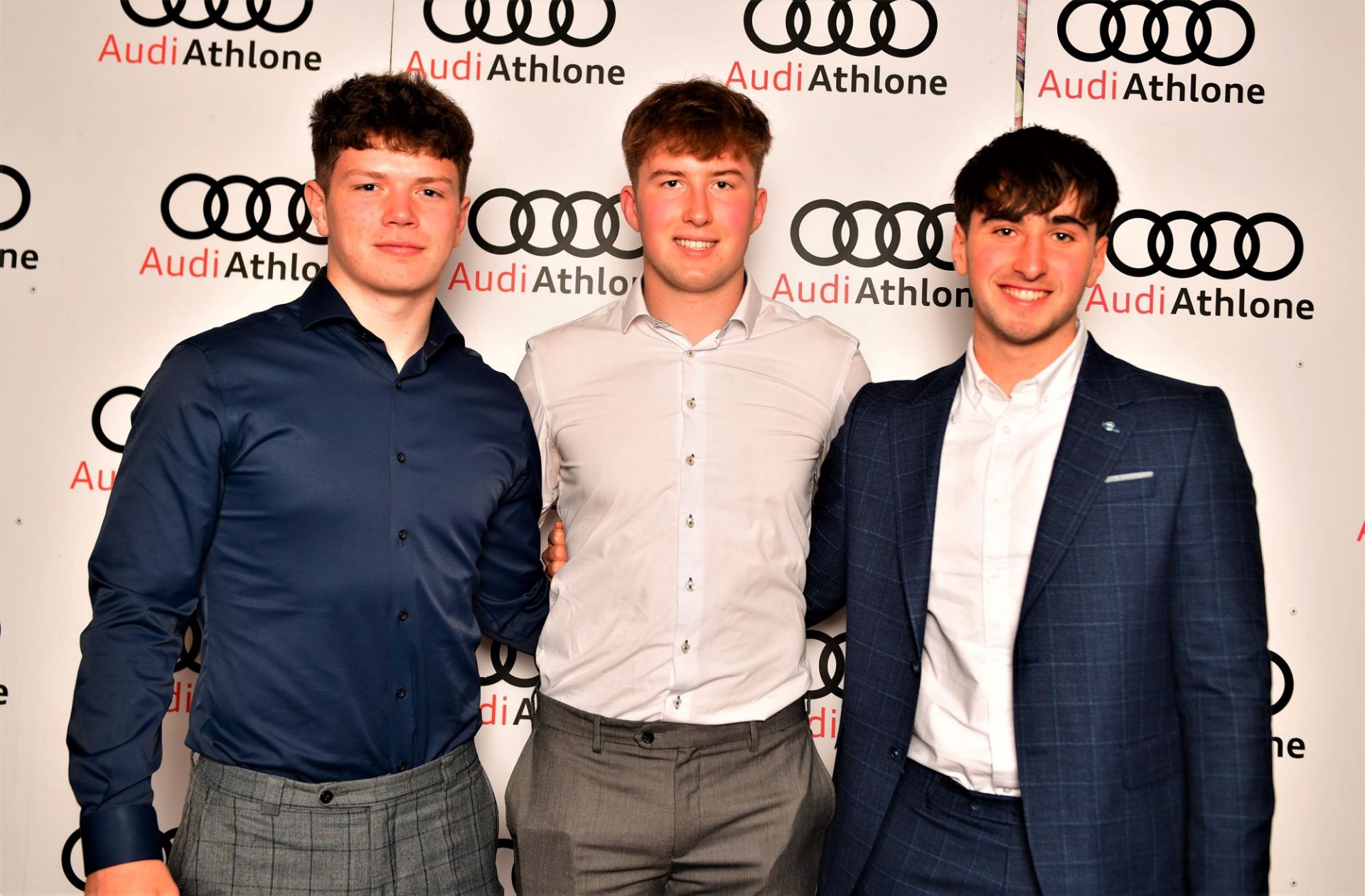 RUAIRI BYRNE and TOM O'NEILL main winners at Buccaneers Awards Event.
RUAIRI BYRNE and TOM O'NEILL were the major winners at Buccaneers Rugby Football Club's Annual Awards event which took place in Athlone's Sheraton Hotel. One of the best moves that the club did last season was to coax Byrne out of premature retirement and the Athlonian put in hugely consistent performances that earned him the Buccaneers Senior Player of the Year accolade and thus become the first holder of the Ray McLoughlin Perpetual Trophy. Meanwhile east Corkonian O'Neill's busy endeavours at livestreaming matches for many teams in the club warranted his selection as Club Person of the Year.
Incoming President Brendan Wilkins welcomed the gathering that celebrated another successful playing season. Following promotion to Division 1B of the Energia All-Ireland League, Buccs were comfortably placed all through the campaign, just missing out on promotion play-offs by a solitary point. However, a Connacht Senior League and Cup double was achieved. The reformed Thirds also completed a Connacht double while the U-20's were in the top half of the Leinster League. The Pirates underage teams captured three provincial cups and 6 Buccaneers players represented Ireland during the year with a seventh capped by Israel.
Mr. Wilkins extended a warm welcome to Ms. Muire McLoughlin, sister of the late great Ray (who played 41 times for Ireland and among many notable achievements toured twice with the British & Irish Lions), and family members to the event. The family were delighted to present to the club The Ray McLoughlin Perpetual Trophy that would be presented to the annual winner of the Senior Team Player of the Year. Accepting the impressive trophy from Muire on behalf of the club, Brendan gratefully acknowledged the family's generosity that would ensure that Ray's legacy would live on at Buccaneers. Ruairi Byrne thus became the first recipient of this coveted trophy which was presented to him by Muire McLoughlin.
PLAYER OF THE YEAR WINNERS
RUAIRI BYRNE had an outstanding season, delivering a consistency of top-quality performance across the entire campaign. He has shown great leadership through his high standards and tenacious approach to every aspect of his game.
'Ru' is renowned for doing the dirty work, that may go unnoticed to the untrained eye, but not to his coaches where he was regularly discussed as a key performer. His set-piece skill has been exemplary but it has been his increased ball-carrying defence work that has set him apart this season.
Ruairi's work rate and commitment to his on and off field preparation is a template for younger players to follow.
ROSS MURPHY-SWEENEY has had his best season to date. Week in week out he stood out with his performances, showing his versatility playing across the back three and also in the centre.
Ross has always had an attacking flair and an eye for a try. But it has been his defensive improvements that have marked him out this season. His openness to learn and develop, his desire for improvement and seeking out feedback from coaches deserves significant recognition.
His performances for Buccs Junior 1's were rewarded with a call-up to the Senior side where his performances stepped up another level and Ross was also recently selected on the Connacht Junior team.
JAMES DOWNES made his return to rugby this season with the Thirds squad after a couple of years hiatus from the game. He arrived at the first training session to an unfamiliar group of lads, a mixture of veterans and novices. He integrated into the group in no time and is a very well-liked figure amongst the squad.
A front-rower with the Marist Junior Cup winning team, James starred in his new second centre position, marshalling defence and attack around a very forwards orientated squad. His skills were on a superior level to the rest of the league and James' name was one of the first onto the teamsheet every matchday.
His enthusiasm and commitment to his side's cause never waivered and, still in his early 20's, he should really be playing a much higher level than the Thirds.
GAVIN DALY has excelled for the U-20's not only this year but also for the past two seasons. He has stepped up into a true leader on the field where the dynamic backrower leads by example.
Gavin drives his teammates on to be up to the standard that is required to be competitive on match day. He is following a family tradition with the club and surely has a great future with Buccaneers ahead of him.
The awards to Ross, Gavin and James were presented by Michael Moore, Junior, of Audi Athlone.
strong>BUCCANEERS INTERNATIONALS
Seven Buccaneers players were honoured with International selection during the season. Robbie Henshaw and Finlay Bealham played with the grand slam Six Nations winning senior side while Harry West was a member of the U-20 squad that enjoyed similar success. Patrick Egan, Sean Rohan and Niall Tallon all played for Ireland U-18's while Yishai Avrahami became our first Israel international player. Congratulations to Buccs "magnificent seven".
CLUB PERSON OF THE YEAR
This season's Club Person of the Year has demonstrated what a club volunteer is to the highest degree. Athlone Rugby Football Club and latterly Buccaneers RFC have been welcoming homes for Corkonians who have strayed to the centre of Ireland from the 'Real Capital'. The club in turn has benefitted greatly from their bedding down in the midlands.
Such is the case with this year's winner who rocked up when his sons Mathias and Nathaniel began to play rugby here some years ago. TOM O'NEILL became involved and served in a number of roles before, following his retirement from teaching, he found his true niche becoming the club's video guru.
It is not an easy task to set up, record, live-stream and indeed commentate all together at the same time. Lots of technicalities involved and, often learning on the hoof, Tom has progressed from covering Senior matches to doing games at many other levels in the club including underage games. This is time-consuming and demanding but Tom gives of his time freely and generously.
What this means to youths teams cannot be taken for granted. Meeting a group of underage players at training one evening, Tom's proposer for this richly merited accolade, asked how prep for the upcoming match was going. With huge pride and smiles they answered that their game was being live-streamed, which gave them an extra incentive to perform to their best potential.
In the current online age, the streaming of games has been hugely beneficial to the club's presence, and to team coaches. Family, friends, and people in general from the wider locality can follow the fortunes of Buccs, be they in Athlone or abroad. Our hits testify to this, with viewers all over Ireland & UK as well as USA, Australia, Africa and Canada and elsewhere.
This is primarily down to the efforts and initiatives of one man for providing such an excellent service to the club this season. TOM O'NEILL is thus truly deserving of the honour of Buccaneers Club Person of the Year 2023. The presentation of the Michael Hanley Memorial Perpetual Cup was presented to Tom by Michael Hanley Junior.