CASHEL consolidated their position at the business end of the Energia All-Ireland League Division 2A when they put in a strong second half showing to overhaul Buccaneers on a 29-10 scoreline at Spafield, Cashel, on Saturday. Buccs put in an encouraging first half effort to lead 10-3 at the interval but they were over-powered following the change of ends as the homesters forged a bonus point victory.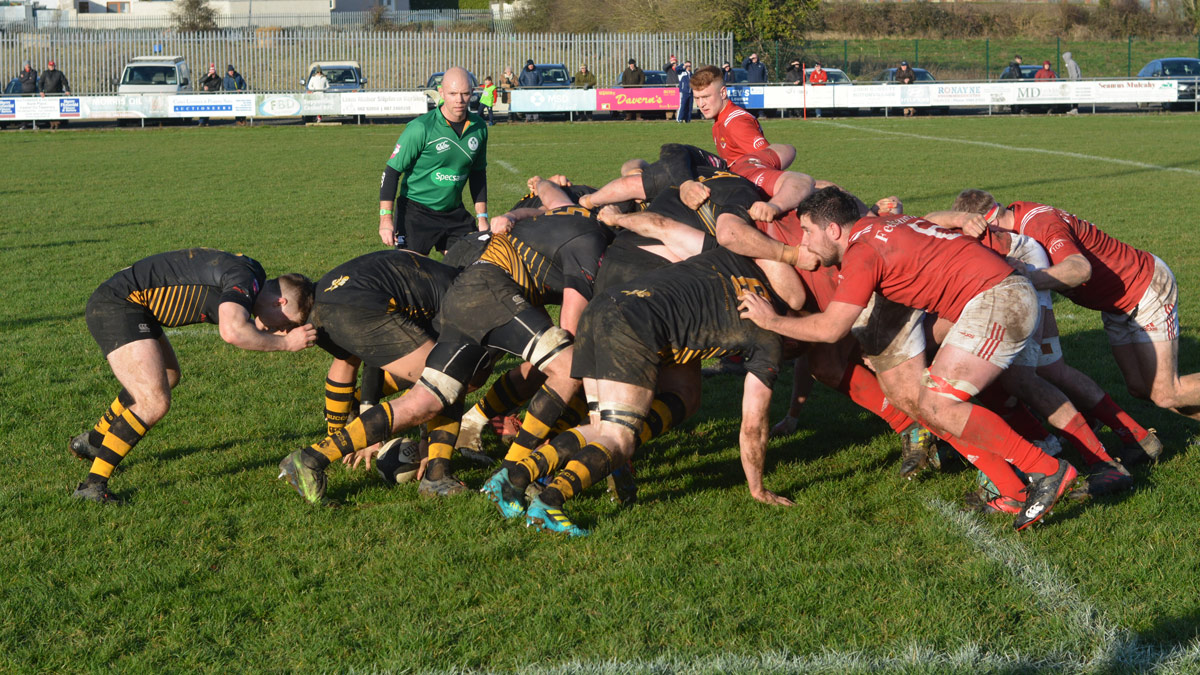 Playing conditions were near perfect in the bright sunshine at the neatly appointed venue for the midlanders first visit there. The cold breeze blew across the pitch, not favouring either side. The Pirates made three changes, all enforced, for this encounter. Conor Kenny and Sean Masterson were not available and Corey Reid is on the emigrant trail. They were replaced by Matthew Murphy, Oisin McCormack and Frank Hopkins, the latter on the left wing with Darragh Corbett switching to centre.
Buccs made the better start and their endeavours yielded a 9th minute penalty which Luke Carty slotted over. Cashel levelled six minutes later when the Shannonsiders were penalised at a scrum, which could have been avoided had Buccs been more alert when the hosts knocked on and the ball went loose. Aidan McDonald just squeezed his placekick inside an upright.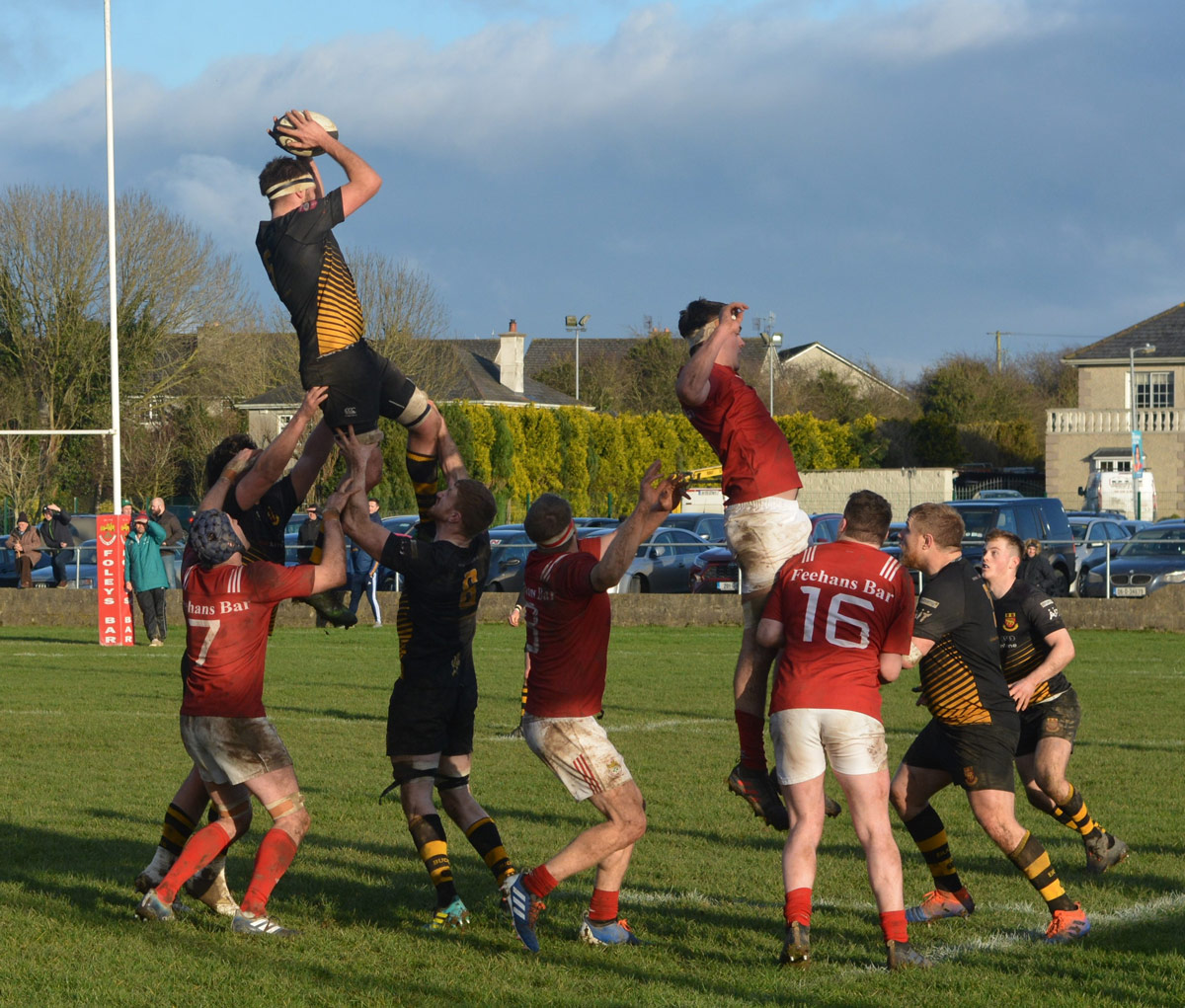 Colm Reilly and Carty both kicked balls dead in quick succession as they tried to pin the Reds back but, when Aidan Barron made a similar error for Cashel approaching the half-hour Buccaneers profited. On this occasion they got a solid scrum from which Reilly broke smartly to race away from halfway for a super solo 28th minute try on the left. Carty's fine conversion put the visitors 10-3 ahead.
Cashel had two late penalty opportunities before the interval and opted for touch with both. The first kick fell short while Buccs defended the close-in lineout from the latter to retain their lead at half-time.
Cashel resumed with a head of steam with Ed Leamy to the fore and Evan Galvin did well to retrieve possession close to his own line before Carty made a good clearance. The Munster side then introduced their team coach Daragh Lyons at outhalf and the former Cork Constitution regular began pulling the strings for Cashel. Cathal Ryan was held up over the Pirates line on 50 minutes amid growing pressure which resulted in debutant McCormack being sin-binned for slowing ball illegally a minute later.

The High Kings kept Buccs pinned in their right corner and, following a lineout throw that did not look straight, James Ryan powered over for a 52nd minute try which McDonald converted to tie the scores at 10-10.Ten minutes later they were again pressing the visitors line and got away with an early shove on a Pirates put-in from which the wily Lyons pounced on the now loose ball to snaffle a try at the posts making McDonald's conversion a formality.
Buccs responded to force a penalty five minutes later but Carty's kick from 36 metres was never on target while Hopkins was desperately unlucky when forced to put a foot in touch as he attempted to ground the ball at the left corner flag just two minutes later.

Cashel now had the impetus in their favour and Luke Duffy notched their third try after 73 minutes. Meanwhile Buccaneers wilting pack was simply too small and light to deal with a typical Munster style unit and, as they wilted, Richard Kingston broke away down the left flank to secure a bonus point try for the homesters. McDonald converted both late tries to complete the 29-10 win by Cashel for whom Lyons, No.8 Ryan, Leamy and Josh Pickering were influential. Buccs lack of size and grunt was all too evident as the match progressed despite the industry of Galvin and Declan Adamson in the forwards exchanges while Reilly and Eoghan O'Reilly were the liveliest backs on view as the Pirates poor scoring return remains a problem to be solved.
CASHEL:-  O.O'Sullivan; R.Kingston, L.Duffy, A.McDonald, C.Cashman; A.Barron, J.Pickering; C.Ryan (captain), N.Fitzgerald, J.Kendrick; F.O'Donoghue, R.Moran; A.Butler, E.Leamy and J.Ryan. Replacements:-B.Ryan (for Kendrick, 35 mins), D.Lyons (for Barron, 46 mins), P.Hayes (for C.Ryan, 53 mins), C.O'Donnell (for 75 mins) and N.Fitzgerald (for J.O'Rourke (for O'Sullivan, 78 mins).
BUCCANEERS:- Eoghan O'Reilly; R.Murphy-Sweeney, D.Corbett, S.O'Carroll, F.Hopkins; L.Carty, C.Reilly; M.Murphy, D.Adamson, M.Staunton; M.Kennedy, R.Byrne; E.Galvin (captain), O.McCormack and C.Maulaulau. Replacements:-  T.Rensford (for McCormack, 61 mins), R.Grenham (for Maulaulau, 63 mins), O.McCormack (for Kennedy, 70 mins), H.O'Reilly (for Murphy, 75 mins), S.Mannion (for O'Carroll, 78 mins) and A.Wynne.
Referee:- Cillian Hogan (IRFU).