BUCCANEERS moved up to second place in the JP Fanagan Leinster U-20 League Premier 2 division courtesy of a hard-earned 29-17 bonus point victory over Galway Corinthians at Corinthian Park on Sunday. Conditions were testing for both sides on a cut-up pitch with a strong crossfield breeze blowing for this rescheduled match that brought fixtures to the halfway stage.
On a grey afternoon, a splendid 8th minute Stephen Mannion break brightened the proceedings. This earned a straight-forward penalty for the midlanders but they opted to punt to touch at the left corner. Their bravery was rewarded when, after a number of phases, Mark Tallon powered over for a try which Mannion converted. Corinthians went on the offensive from the restart but another fine Mannion break lifted the pressure. However, the home side levelled the scores when Emmanuel Chihumura got through a number of soft tackles to touchdown after 19 minutes and Cathal Forde added the conversion.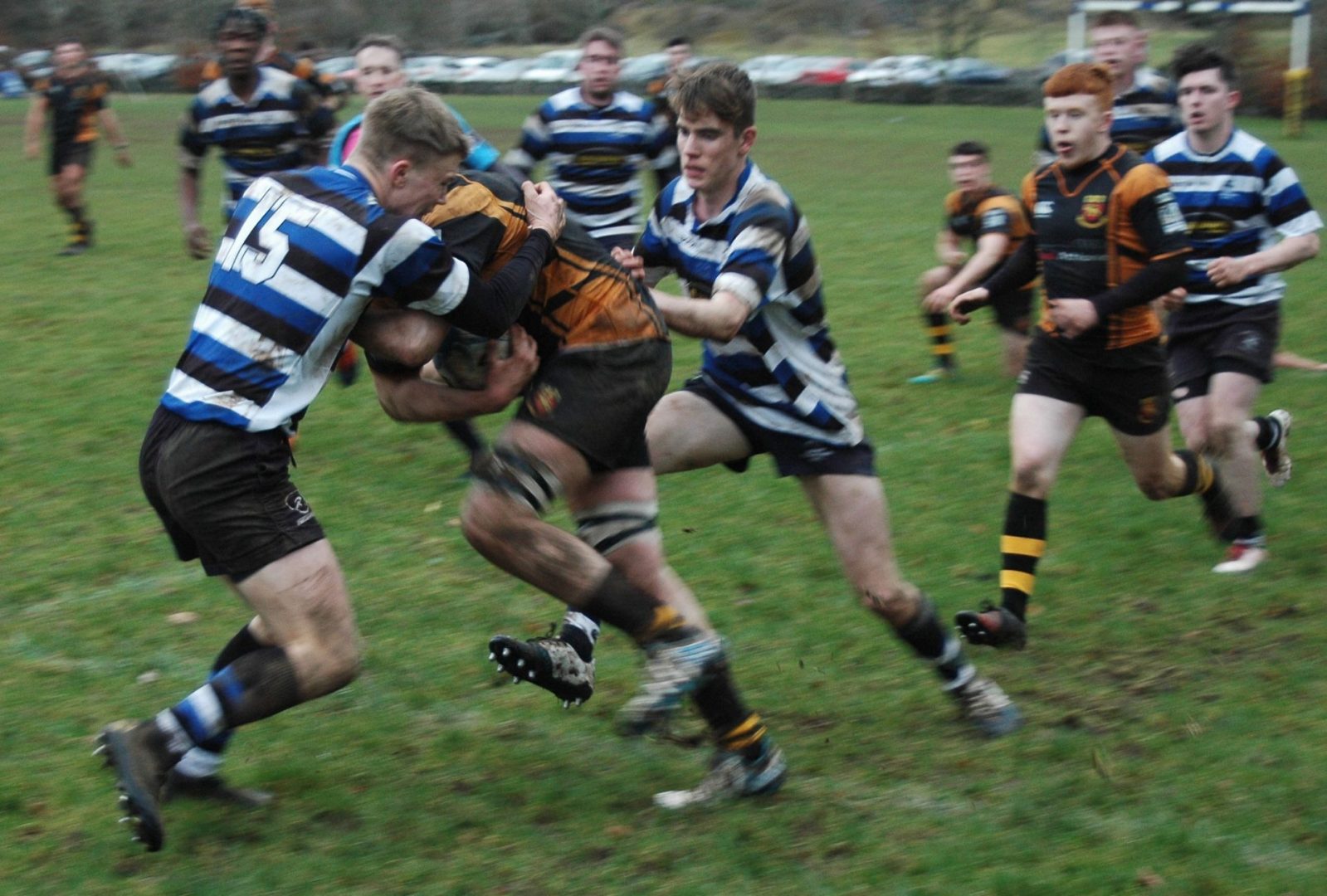 Tallon sustained a knock early in that move that left Buccs temporarily depleted and he was replaced by Darragh Murray with Tallon later returning to the fray in place of Goncalo Caterino. On the half hour mark, Buccs had good build up play by Tallon, Cian Daly and Fergus Galvin that brought them close to the home line where Ruan Venter was held out. Corinthians had a number of kicks go straight into touch during the first half and, from the third of these, they were punished when Murray went scampering away following the lineout to waltz in from 35 metres for a try between the uprights. Mannion added the conversion but there was still time for another promising Pirates raid but, on this occasion, Murray was just closed out in the final move of the half after which Buccs were leading 14-7.
Corinthians restarted with greater urgency and vigour and Buccs had to defend resiliently following the change of ends. However, their cover was eventually breached after 54 minutes when Eoin de Buitlear surged through for a try. Forde duly converted and the teams were level again at 14-14. The Athlonians, now playing up the slight slope while the breeze had eased, were stung by this and their riposte was swift and effective. Dara Mulvihill led the charge and, with quick support by the forwards, Darren Browne drove over for a 57th minute try and Mannion slotted over the conversion.
A 66th minute Forde penalty kept the Galway side in contention before Buccs regained their dominance in the final quarter and looked like adding to their tally when going through quite a number of phases around the 70th minute. However, they eventually became impatient with an ill-judged kick ahead. But Browne got a block on the restart kick and a Murray surge yielded a 72nd minute penalty which Mannion drilled over from the 22.
In the closing stages, Buccaneers put an impressive series of phases together before a clever Mannion grubber kick forced Aaron Browne to put the ball into touch at the Corinthians left corner flag. Murray duly claimed the lineout ball and his forwards were swiftly around him like bees to honey before Buccs drove over the line where Browne applied the finishing touch for his second try that secured the Shannonsiders a bonus point four minutes from time. After Mannion was narrowly wide with his conversion attempt, Buccs then denied Corinthians in their efforts to secure a losing bonus point.
Following a long break since their previous match, Buccs were rusty in some facets with missed tackles and some slow ball being the main concerns. However, they improved noticeably in those areas in the second half. Work rate could not be faulted and the endeavours of Mannion and Michael Byrne in the backs unit and Harry O'Reilly, Fergus Galvin, Liam Winnett, Browne and especially Murray in the pack warranted this successful raid West by the Pirates.
Meanwhile, on this evidence, it is hard to fathom Corinthians being winless and languishing at the bottom of this division while in lock Chihumura they have an exciting nugget.
GALWAY CORINTHIANS:-  R.McCleane; C.Weldon, H.Donnelly, J.Mulholland, O.O'Flaherta; C.Forde, A.Browne; L.Roche, E.de Buitlear, A.Hickey; E.Chihumura, H.McGrogan; P.Coyne, J.Gallagher and H.Costelloe. Replacements:- H.Wood-Hennessy (for Gallagher, h/t), T.O'Dowd (for Roche, 57 mins), J.Gallagher (for Coyne, 65 mins) and P.Coyne (for O'Flaherta, 70 mins).
BUCCANEERS:- R.Venter; O.D.Selenka, D.Mulvihill, S.Mannion, H.Balsiger; M.Byrne, N.Horan; C.Daly, D.Browne (captain), H.O'Reilly; F.Galvin, M.Tallon; G.Catarino, M.O'Neill and L.Winnett. Replacements:- D.Murray (for Tallon, 19 mins), M.Tallon (for Catarino, 25 mins), J.Nagle (for Venter, 33 mins), C.O'Grady (for Winnett, 57 mins), D.McNamara (for Mulvihill, 62 mins), C.Rooney-Digan (for Solenka, 65 mins), L.Winnett (forDaly, 66 mins), K.Connolly and R.Dempsey.
Referee:-  Shane Toolan (Connacht).