SLIGO 43 BUCCANEERS 10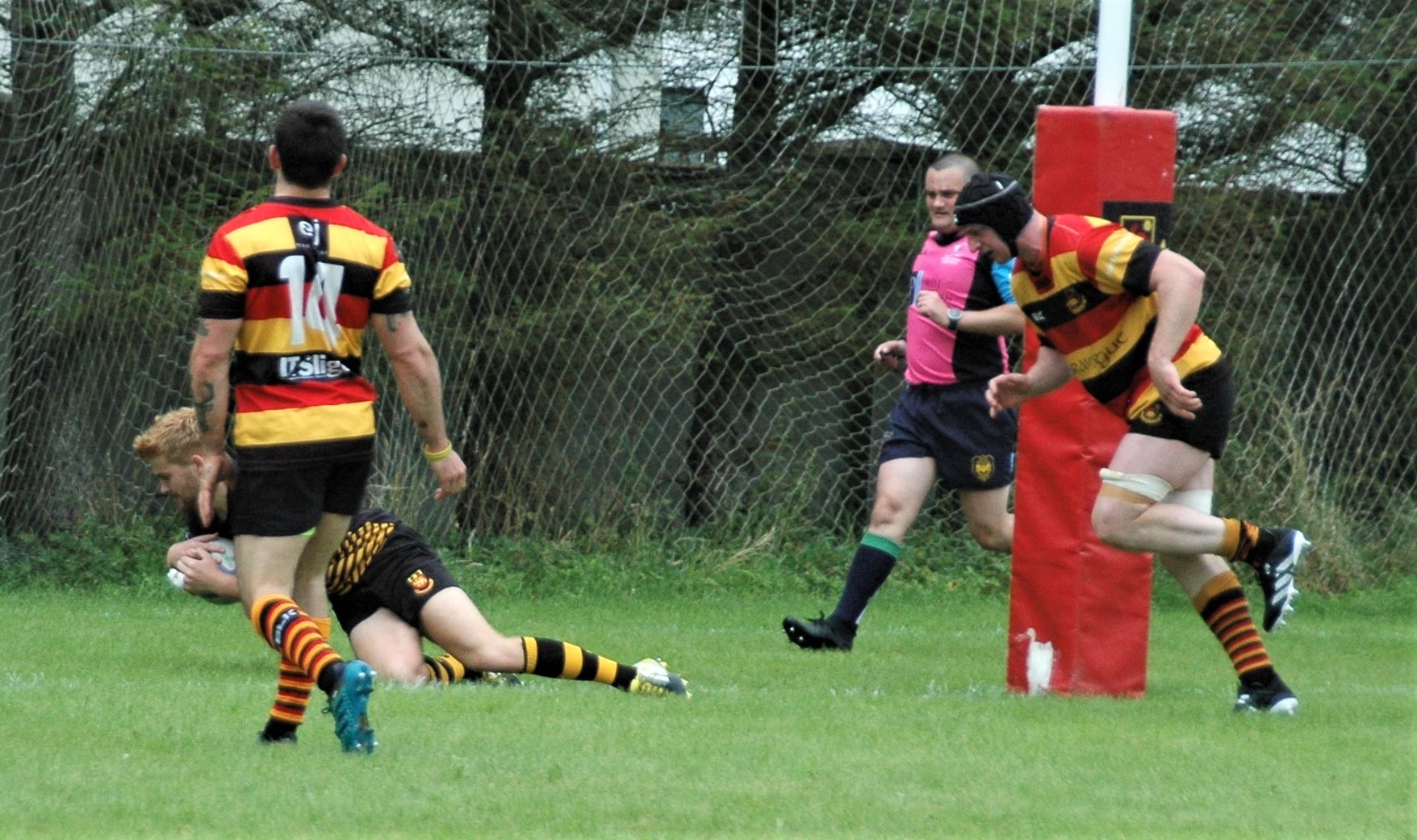 Live club rugby resumed last weekend following a year long break due to the Covid-19 virus, the pandemic which frustrated Sligo's bid last season to retain their Connacht Senior League title. But the north-westerners proved that they will be the team to beat again this season when they scored a 43-10 victory over Buccaneers, their predecessors as champions. The visitors began promisingly at Hamilton Park, Strandhill, on Saturday but Sligo gradually imposed themselves on the proceedings to earn a bonus point win.
The Pirates fielded an extremely youthful squad with only Martin Staunton and skipper Evan Galvin raising the age profile. They opened the scoring with a 2nd minute Michael Hanley penalty and fared reasonably well in the first quarter. Buccs opted for a punt to the left corner with a second penalty but Sligo withstood the early burst and then a fine Brendan Cunningham break set up their opening try by Matthew Earley on 23 minutes. Just before the interval they notched a second try when play was moved smartly from left to right where Philip Carter touched down. Euan Brown's conversion gave the homesters a 12-3 lead at the break.

The impressive outhalf landed a 53rd minute penalty before Sligo's experience and significant bulk advantages impacted and they added four tries in the closing stages against outpowered opponents. They stretched their advantage with a 56th minute Jack Keegan try to which Buccs responded with a smartly taken Tom Shine try two minutes later. Hanley's conversion left his side trailing 22-10.
Earley nabbed his second try before Guilherme Coghetto notched a brace in the closing moments. The impressive Brown converted all four second half tries to complete the 43-10 scoreline. Size mattered in this contest and Sligo, who were ponderously slow yet effective at setpieces, were also helped by missed tackles and poor decisions by their willing but less battle-hardened opponents.
The Galvin brothers, Cian McCann and Darren Browne fought hard in the forwards trenches while Saul O'Carroll and Shine looked best of the backs.
SLIGO:- G.Cognetto; S.Gianformo, J.Keegan, E.Gavin, P.Carter; E.Brown, B.Cunningham; E.Coyle, M.Earley, P.Bengalo; C.Trimble, R.Holian; J.O'Hehir, S.Wynne and R.Hickey. Replacements:- M.O'Hara, T.Power, J.Sexton, D.Byrne and S.O'Brien.
BUCCANEERS:- A.Evans; R.Murphy-Sweeney, S.O'Carroll, T.Shine, M.McHale; M.Hanley, A.Flanagan; J.Kelly, D.Browne, M.Staunton; S.Kroupa, F.Galvin; C.McCann, K.Kiripati and E.Galvin (captain). Replacements:- S.O'Connell (for Kelly, 54 mins), L.Doyle (for Kiripati, 54 mins), G.Fallon (for Flanagan, 56 mins), R.Murray (for Kroupa, 60 mins) and T.McGann (for McHale, 60 mins).
REFEREE:- N.Kearns (Connacht).